When it comes to running a successful website, addressing the inquiries and concerns of your visitors is crucial. While having a robust website is important, visitors often prefer the convenience of asking questions directly and receiving instant answers. However, dedicating an employee's entire schedule to cater to these queries might not be feasible. This is where the power of AI chatbots for WordPress comes into play.
In this comprehensive guide, we will explore the best chatbots for WordPress websites. We will address common questions and shed light on the most popular chatbot options available for WordPress. By the time you reach the end of this article, you will have gained valuable insights and information to confidently select the best AI chatbot for WordPress as per your unique business needs.
What is WordPress?
WordPress is a widely recognized open-source content management system (CMS) that empowers individuals without coding expertise to effortlessly create and manage websites and blogs. As a free software, it offers an accessible platform for users to install, utilize, and customize according to their specific needs.
Whether you're a beginner or an experienced web enthusiast, WordPress provides a user-friendly interface and a vast array of themes, plugins, and customizable options to enhance your online presence.
Best AI Chatbots for WordPress
There are a variety of chatbots for WordPress. Each with powerful features which will help your business enhance customer support and provide a smooth functioning workflow.
Here are the 7 best AI chatbots for WordPress:
| | |
| --- | --- |
| Name | Features |
| Robofy | Multilingual Support, Chat history, Powered by GPT |
| IBM Watson | Rich responses, Customization, Easy Setup |
| Tidio | Seamless integration, Human chat handover, Streamline customer support |
| ArtiBot | Capture leads, Schedule appointments |
| Chaport | Lead generation, Increase sales, Workflow automation |
| Clingeo | Email marketing, Live chat |
| WPBot | Live chat, Seamless integration |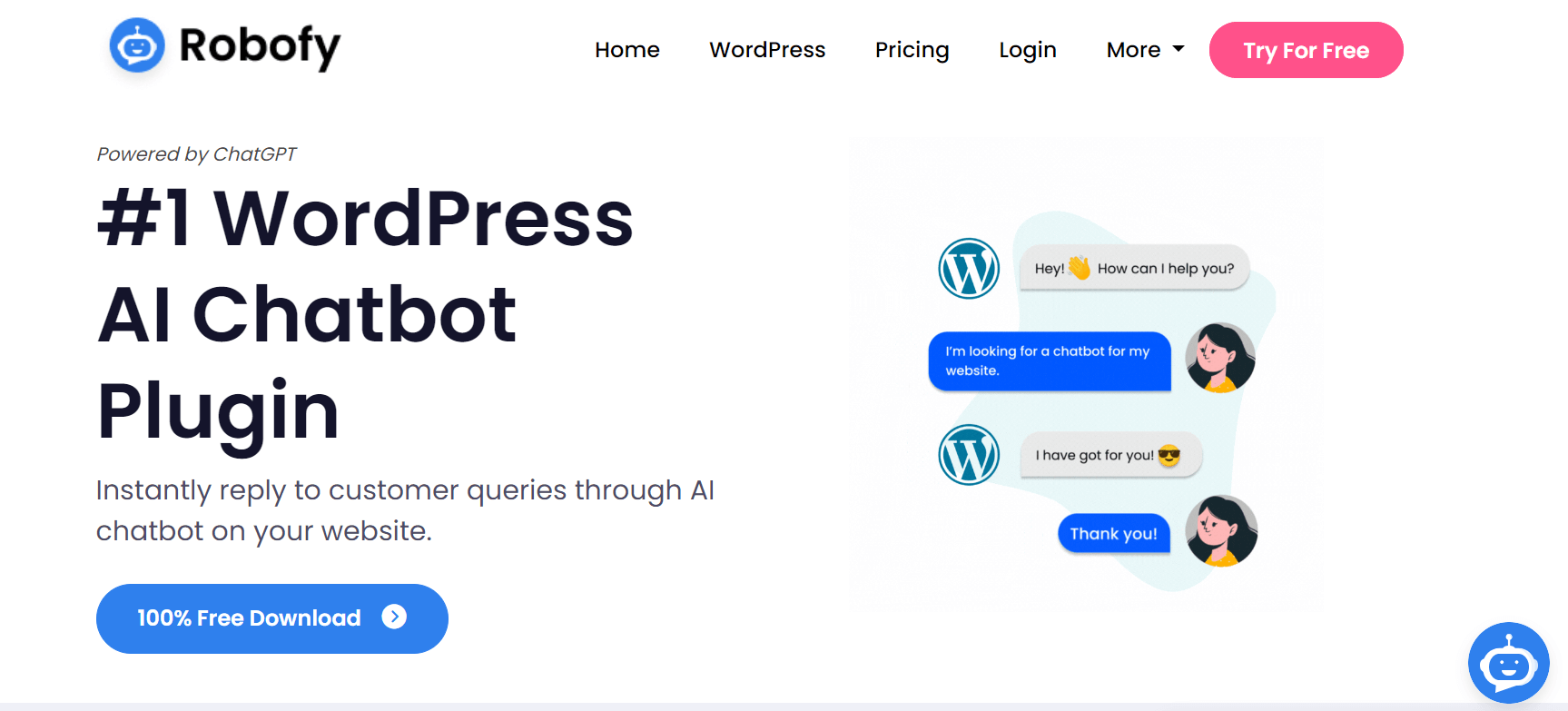 Robofy is an AI chatbot which is powered by ChatGPT. This no code chatbot for wordpress can be installed on your website within minutes. The chatbot's powerful features drive and resolve customer queries instantly and thereby increase customer engagement.
With the installation of the AI chatbot plugin for WordPress, you unlock a powerful advantage: the ability to deliver instant and precise responses to customer inquiries. Leveraging the integration of GPT technology, the chatbot ensures customers receive answers swiftly, enhancing both their satisfaction and overall experience. By streamlining the support process, this plugin saves valuable time for your visitors and support team alike, allowing for more efficient interactions and improved customer service.
Supported features of Robofy
Automatic Chatbot Builder: Effortlessly create a chatbot by selecting the desired Blog Posts, Pages, and Product details within minutes.
Advanced Customization: Tailor your AI chatbot plugin to seamlessly blend with your website and brand colors, ensuring a cohesive and branded user experience.
Quick Questions: Simplify customer interactions by pre-populating quick questions, enabling your chatbot to address frequently asked queries swiftly.
Message Ratings: Gain valuable insights into your chatbot's performance by monitoring the Ratings feature. Identify areas for improvement and enhance the effectiveness of your chatbot.
Inbox: Efficiently oversee and manage complete chatbot conversations with your customers using our user-friendly and interactive Inbox feature. Stay organized and maintain seamless communication.
Check out a complete Guide on AI chatbots – here
IBM Watson Chatbot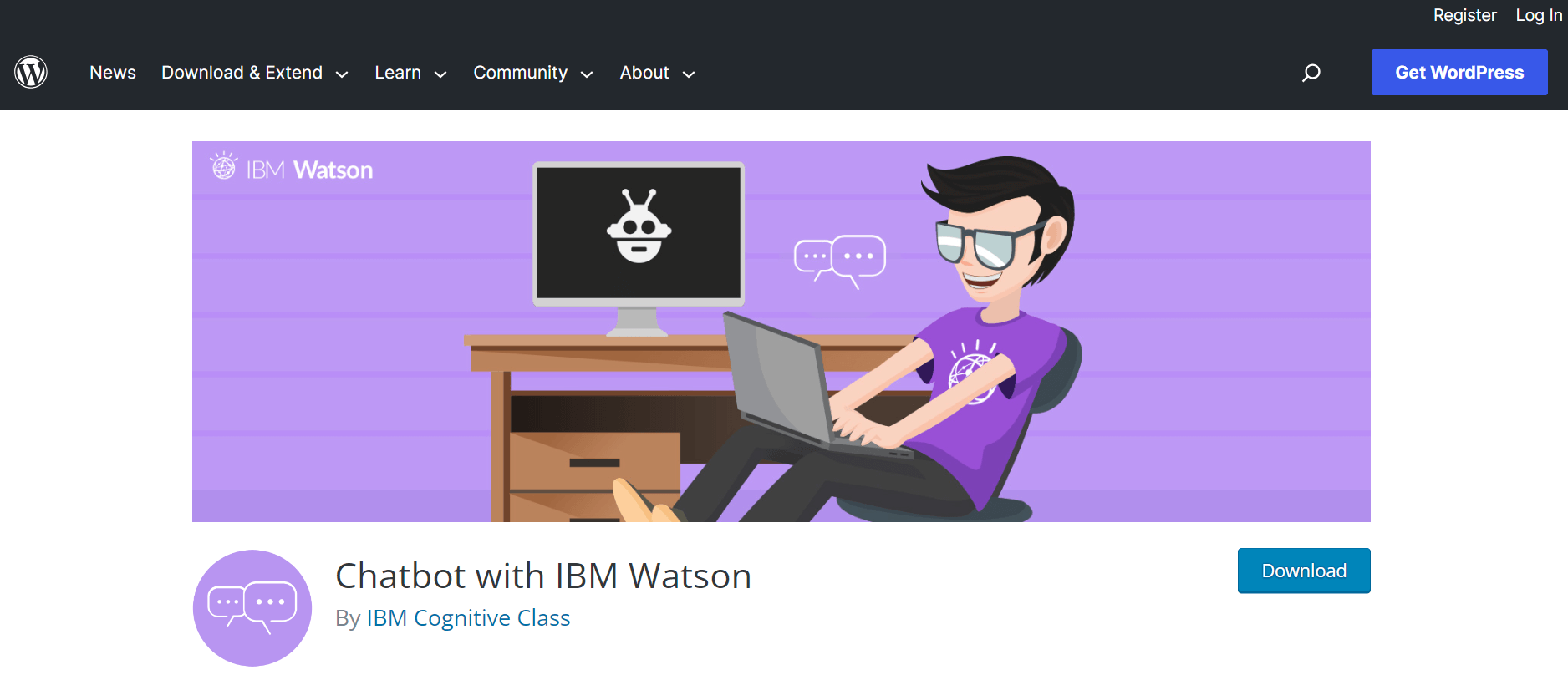 By integrating the IBM Watson-powered chatbot plugin into your WordPress site, you can revolutionize customer support and enhance their experience. In just a matter of minutes, this plugin empowers you to train Watson, leveraging its advanced AI capabilities to swiftly respond to commonly asked questions, offer valuable information, and assist visitors in navigating your website seamlessly.
Furthermore, if customers prefer to engage with a human operator, this plugin seamlessly connects them to a real person via telephone, ensuring personalized assistance when needed. Embrace the power of IBM Watson to provide exceptional customer service and elevate user satisfaction on your WordPress website.
Supported features by Watson
The WordPress AI chatbot plugin provided by IBM, named Watson, offers a range of powerful features that can enhance your website's user experience. Here are the key highlights:
Rich Responses: Enjoy the flexibility of incorporating images, pauses, and clickable responses into your chatbot conversations, enabling a visually engaging and interactive user experience.
Personalized User Data: Leverage user account information, such as their name, within the chatbot dialog, creating a more tailored and personalized interaction with visitors.
Quick Plugin Setup: Benefit from a straightforward and hassle-free plugin setup process, enabling you to make your Watson Assistant chatbot available to users quickly.
Convenient Service Control: Gain direct control over the usage of the Watson Assistant service through the plugin settings page, giving you the flexibility to manage and optimize its performance.
Customizable Appearance: Tailor the chatbox's appearance to suit your preferences, ensuring it aligns seamlessly with your website's design and branding elements.
With these feature-rich capabilities, the Watson-powered chatbot plugin for WordPress empowers you to deliver an interactive and personalized user experience.
Tidio AI Chatbot for WordPress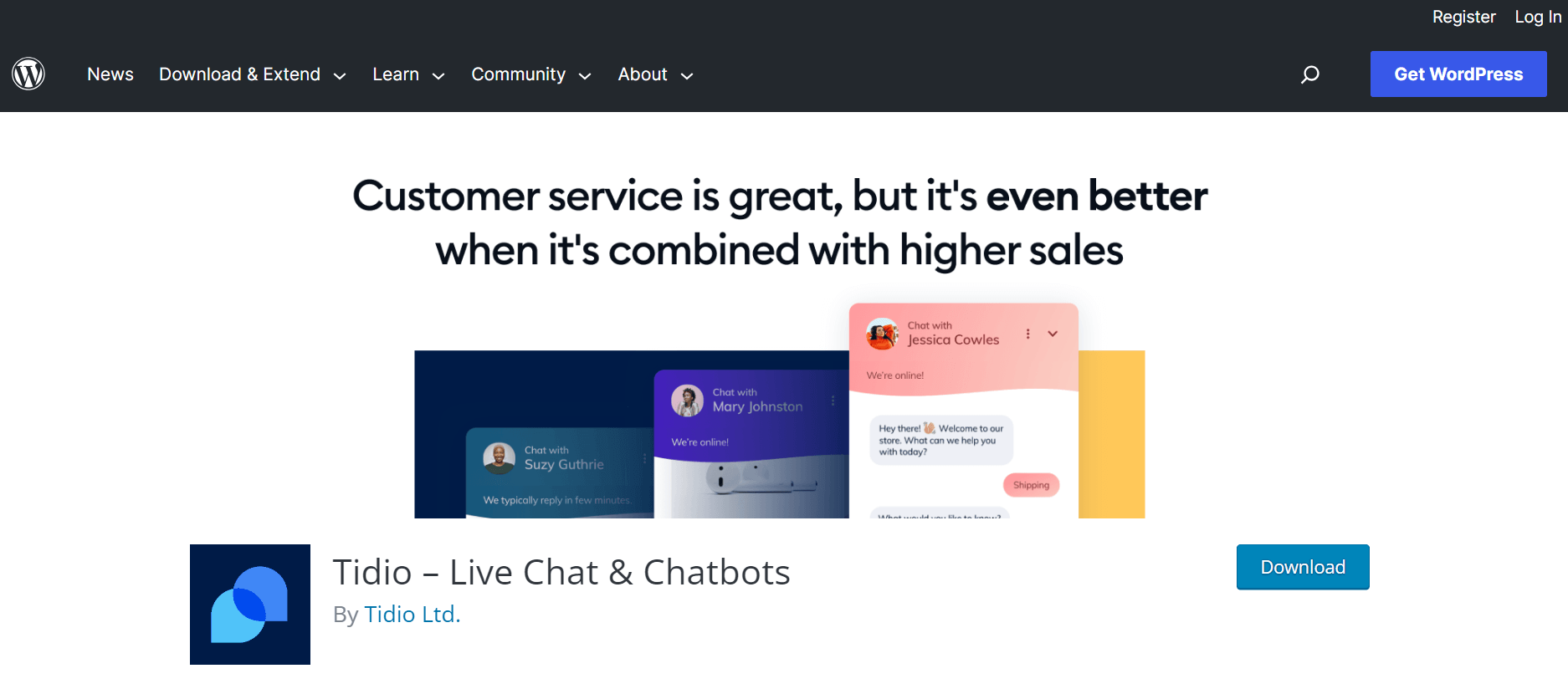 Tidio is an all-encompassing customer experience solution designed exclusively for WordPress websites. With its comprehensive suite of features including live chat, chatbots, and multichannel communication, Tidio empowers online stores to deliver exceptional customer service and transform passive visitors into active buyers.
This powerful platform offers pre-built chatbots tailored for sales and support, seamlessly enhancing conversions and promptly addressing customers' frequently asked questions. By consolidating all customer messages into one centralized hub, it simplifies the management process, serving as a robust helpdesk solution that streamlines your team's workflow.
Supported features by Tidio WordPress Chatbot
Engage with your website visitors in real-time through live chat, ensuring swift issue resolution and proactive selling.
Access valuable customer information, such as previewing carts, checking order history, and recommending products directly within the chat interface.
Streamline customer support and resolution with a user-friendly ticketing system.
Optimize customer service efficiency by routing conversations to the right agent through the Departments feature.
ArtiBot Chatbot for WordPress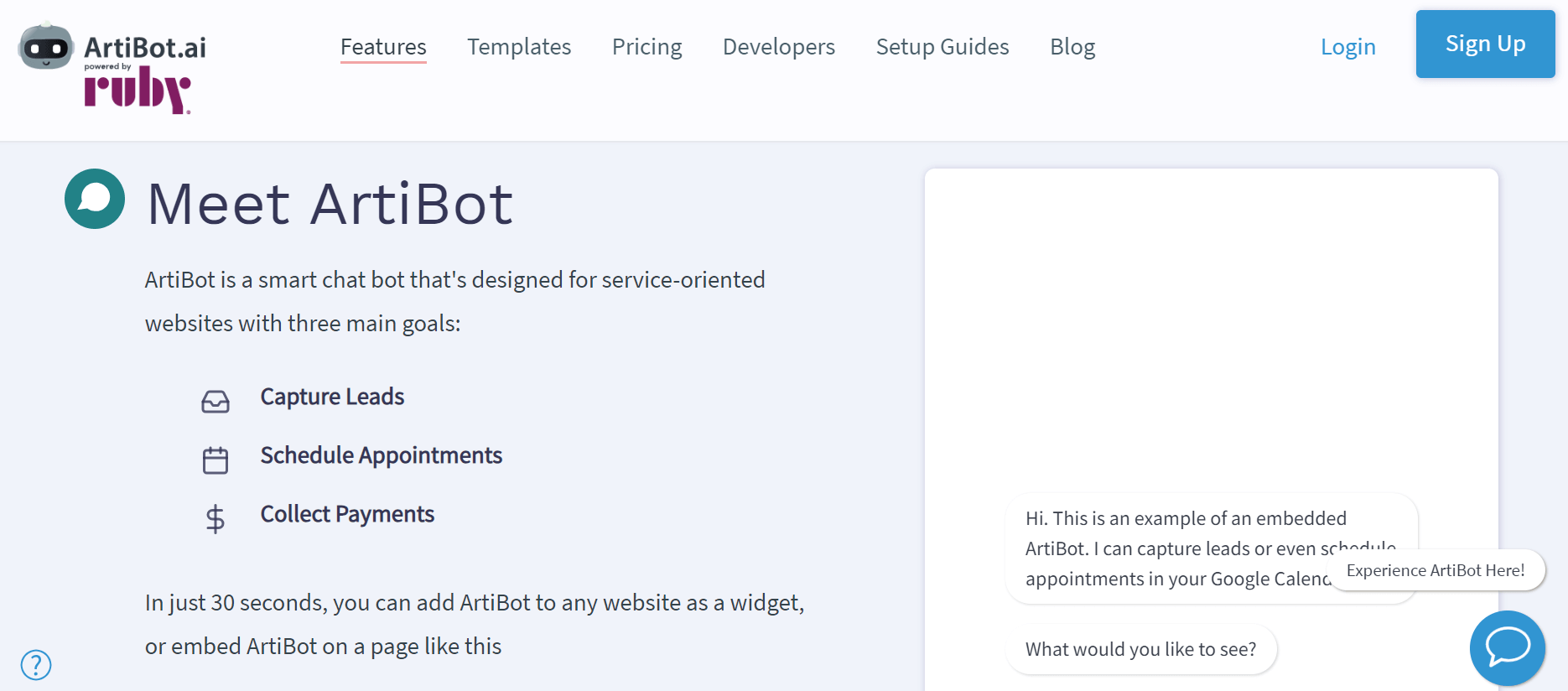 ArtiBot, an AI chatbot tailor-made for service-oriented websites, brings a smart and efficient solution to three essential goals: capturing leads, scheduling appointments, and collecting payments.With ArtiBot, seamlessly integrating this intelligent chatbot onto your website takes only 30 seconds, allowing you to enhance user engagement and streamline customer interactions.
Whether you choose to add ArtiBot as a widget or embed it directly on a page, this versatile tool empowers your website to provide personalized assistance, drive conversions, and optimize the customer journey.
Supported features by ArtiBot.AI
Capture leads 24×7
Offer multiple type questions to capture quality leads
Ability to jump to different questions based on the response given by the user
Questions are allowed to have field validation to recognize different data points about the user like numbers, date, emails etc.
Schedule Appointments
Directly connect to google calendar to schedule appointments directly for your customers.
You can define the reasons of availability for each day separately.
Accept and complete transactions
Easily set the amount and the current you want to charge
No portion of the payment is taken by Airbot
Chaport Chatbot for WordPress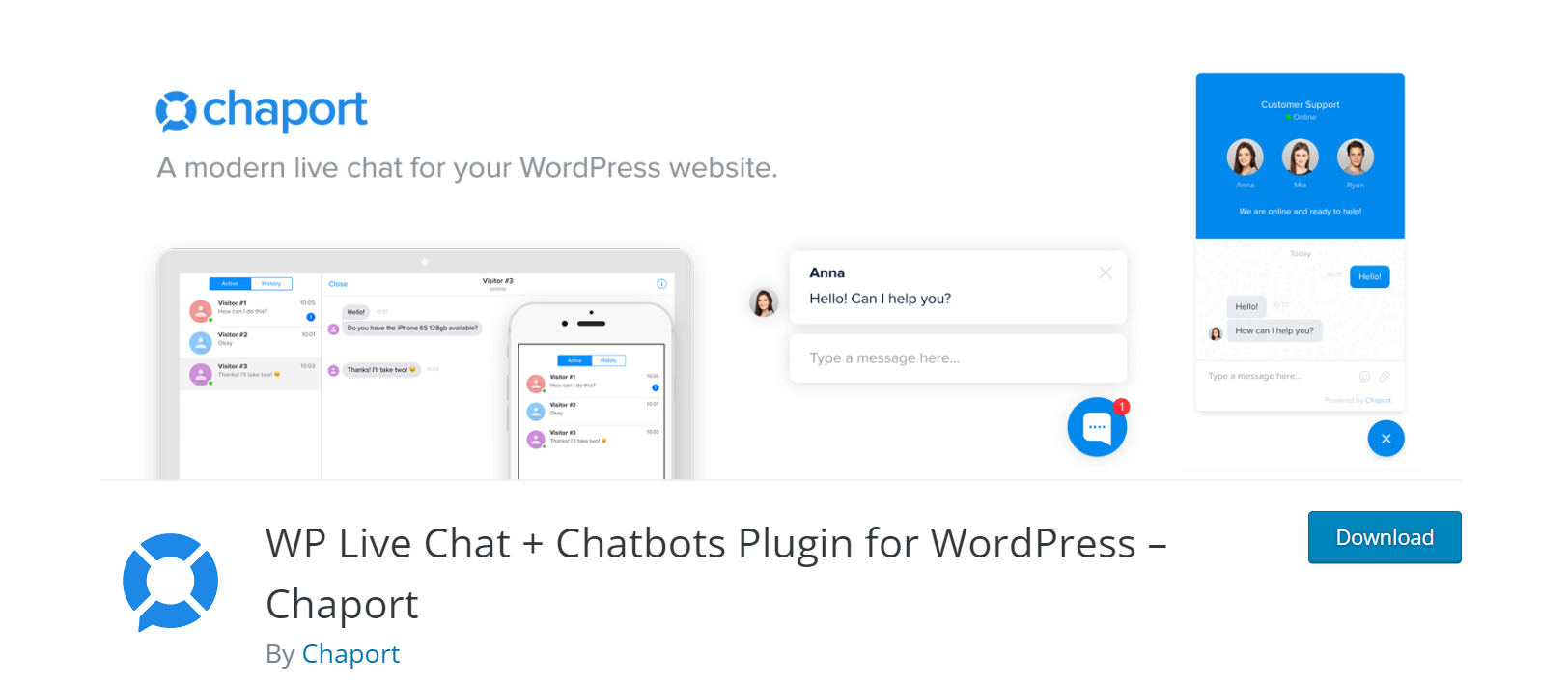 Chaport is an efficient plugin that elevates customer communication through its user-friendly chatbot and live chat solution. With seamless integration across multiple communication channels, you can effortlessly interact with customers, enhancing engagement and satisfaction. By integrating with third-party solutions you can streamline your workflow, ensuring a seamless and efficient customer service experience.
Supported features by Chaport
24/7 Customer Support: With Chaport you can deliver exceptional customer service round the clock using live chat and chatbots. Show your customers that your business is highly responsive and always available to address their needs.
Multi-Channel: Streamline customer queries by centralizing communication across various channels. Whether it's through live chat or their preferred platform like Facebook, Telegram, or Viber, provide seamless support to your customers.
Lead Generation and Qualification: Drive more interactions with automated invitations based on specified rules. Engage with interested visitors through live chat and convert them into valuable prospects.
Clingeo Chatbot for WordPress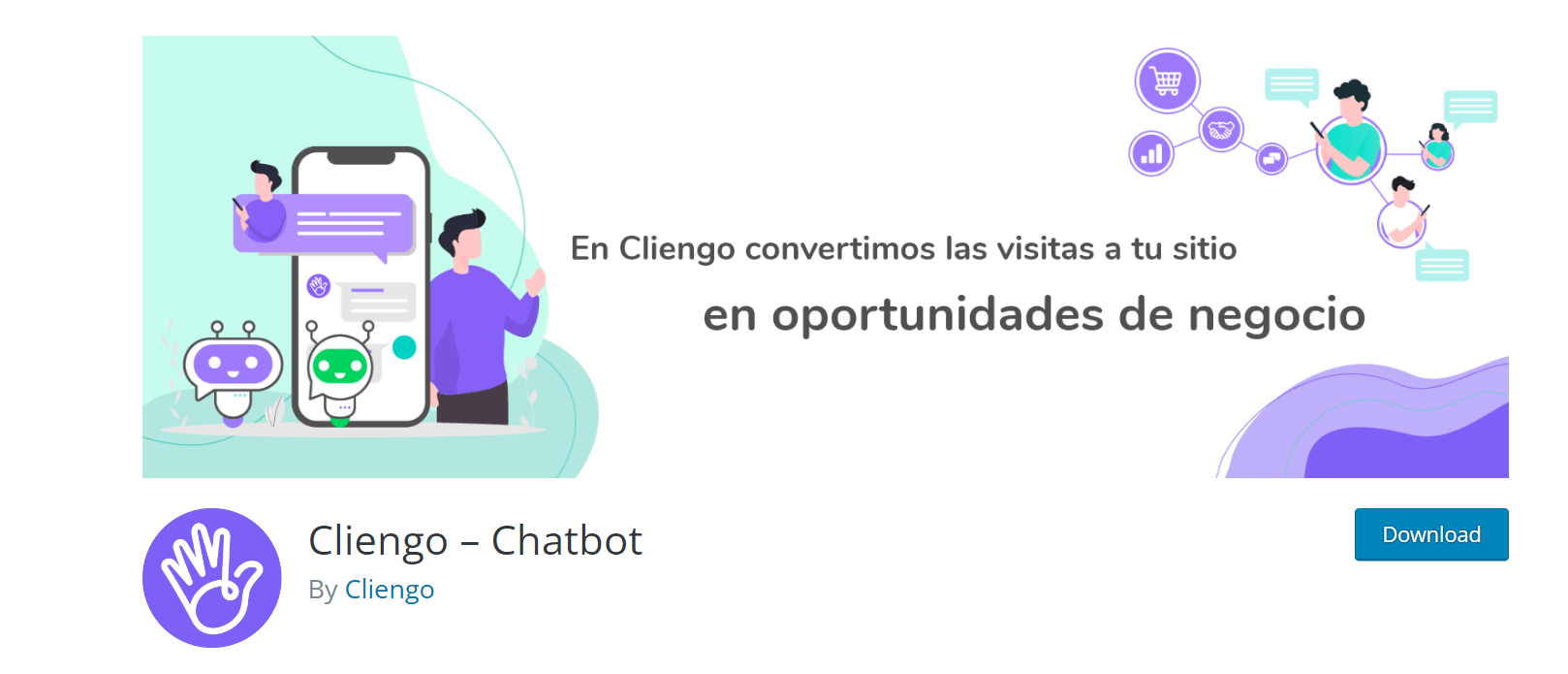 Using Clingeo's Chatbot you can easily capture the lead's data, interact with them accordingly and easily convert them into potential buyers. The chatbot can automate conversations where the questions are repeated more often.
Supported features by Clingeo Chatbot for WordPress
Google Ads: You Maximize conversions and optimize campaign audiences by leveraging Client's connection with Google Ads.
Google Analytics: Gain comprehensive insights into the activities and performance of your website with Cliengo's integration with Google Analytics.
Email Marketing Automation: You can reach qualified audiences and enhance the effectiveness of your email campaigns. Clingeo seamlessly integrates with your email platform and helps you target the leads through email campaigns.
WPBot for WordPress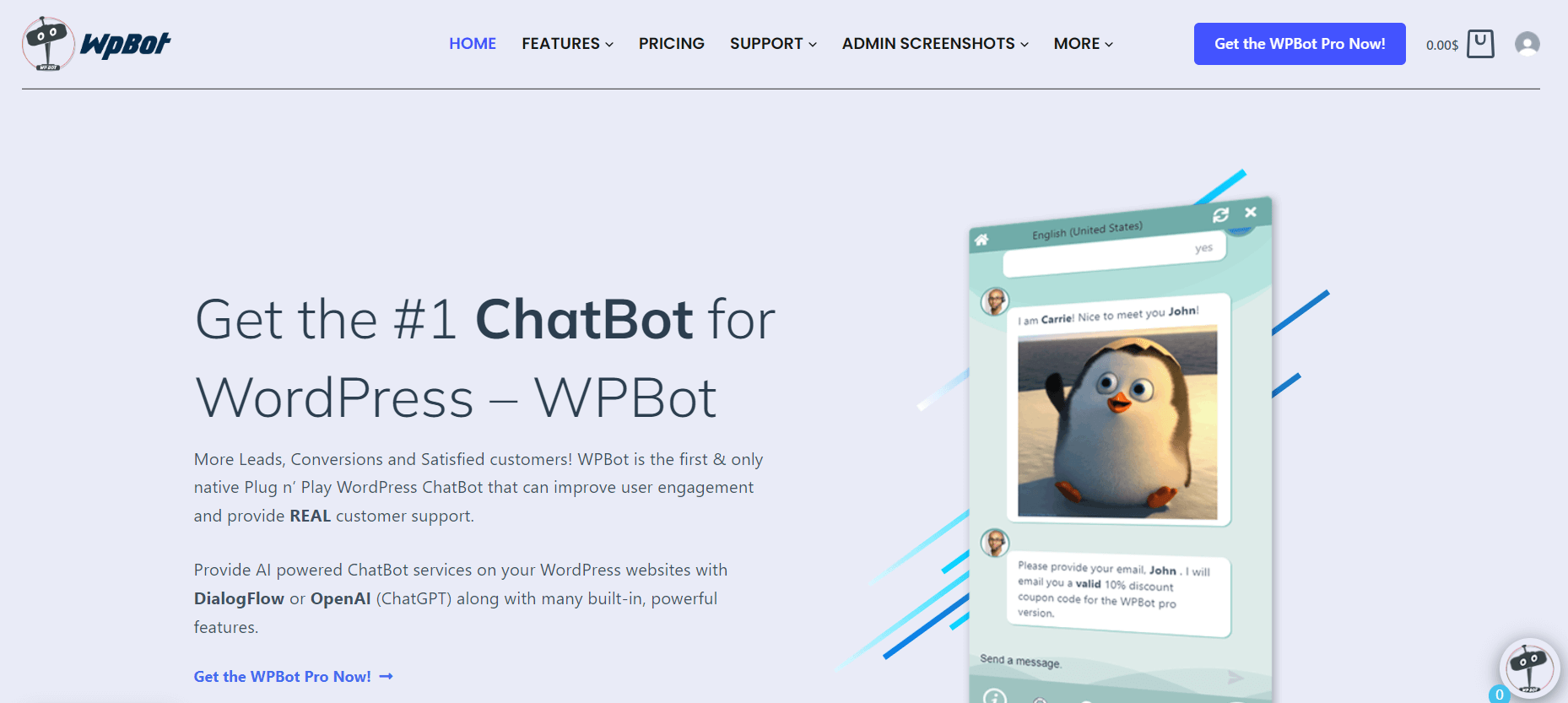 With WPBot you can enhance user engagement, drive more leads, increase conversions, and deliver exceptional customer support with WPBot, the revolutionary native Plug n' Play WordPress ChatBot.With its robust set of built-in features, WPBot takes user interaction to the next level, ensuring seamless communication and real-time support for your valued customers.
Supported Features of WPBot
24/7 ChatBot: WPBot offers a personalized and engaging experience for users with its ability to deliver customized welcome messages andis available for your visitors 24×7
Plug N' Play, Easy and Quick: Unlike traditional chatbots that require extensive training and integration, WPBot is designed to be plug n' play. With WPBot, installation is easy. You can simply set it up, provide your email, and start using it right away.
Integration with Live Chat Systems: WPBot seamlessly integrates with various live chat systems, including Facebook Messenger customer chat widget and other popular third-party options like Tawk.to.
Also check out: How to download and install AI chatbot plugin on WordPress – Click here
How to choose the best AI Chatbot for WordPress?
Using a chatbot for your WordPress websites has many advantages. But choosing the right chatbot is an important step towards it. Many factors depend on choosing the best chatbot for wordpress. But here are a few of the most important ones which you should keep in mind before making the decision.
Easy integration with your website: The chatbot should have an easy plug and play system to integrate with your website.
Multitasking: The chatbot should be able to multitask easily. This helps in keeping the workflow smooth and faster.
24×7 support: It should be able to give support to the customers 24×7. This will help you gain possible leads, customers and much more, even after the business hours.
In conclusion, integrating an AI chatbot into your WordPress website can significantly enhance customer engagement, improve user experience, and streamline customer support. When selecting the best chatbot for your WordPress site, it is crucial to consider factors such as ease of use, customization options, integration capabilities, and the ability to provide accurate and prompt responses. By leveraging the power of AI chatbots, businesses can effectively scale their support efforts, boost conversions, and ultimately deliver exceptional customer satisfaction.
If you are interested to know about the best AI chatbots for customer support, click here.
What are the top 3 AI chatbots for WordPress?
The best Chatbots for WordPress are:
Robofy AI Chatbot
IBM Watson Chatbot
Tidio AI Chatbot
How to choose the best WordPress AI chatbot?
The main factors are:
Multitasking
24×7 customer support
Seamless Integration