"Plenty of fish in the sea", this well-known quote can easily be viewed from the perspective of the rise in AI tech. With the rise of AI, one can easily find AI products at every nook and corner of the internet. Because of this, the process of choosing the best AI product for your business can get super overwhelming. 
So we decided to help you with at least one category of AI tech, which is the AI chatbot. With the number of AI chatbots in the market, it can make your life hard when it comes to choosing one of them. The process of finalizing one product does not happen easily. One goes through a plethora of websites, compares one product with the other, and may even try some of them before coming to the final  decision. 
Keeping this tiring process in mind we have made an in depth analysis of SiteGPT alternatives to ease the aforementioned process for you.
But why the SiteGPT alternatives?

SiteGPT has seen a significant rise in the past several months. But everything comes at a price, right? And that's exactly why we decided to come up with a list of AI chatbots that have more features as compared to SiteGPT. But at the same time it comes at an affordable price. So before we get into it, let's learn a bit about SiteGPT.
SiteGPT.ai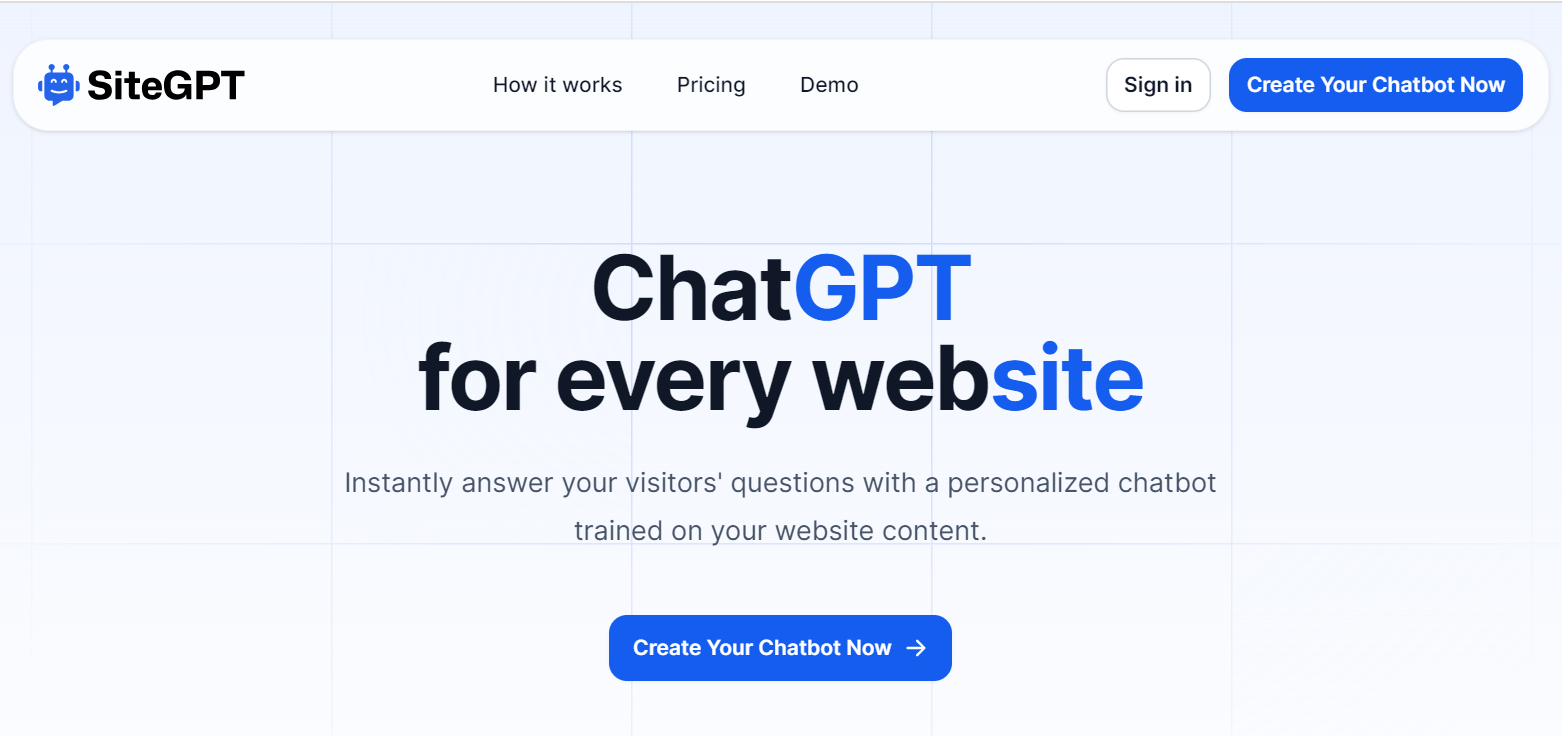 SiteGPT.ai is an AI powered chatbot that merges with any website, offering generic responses to visitor inquiries. This tool enables businesses to create their chatbot, which learns from the site's content.

The chatbot will then be able to reply to the visitor query.
Features
Access to GPT 3.5 & GPT 4

2000-10000 messages/month based on the plan

Upload extra content
Pricing
The SiteGPT pricing can be divided into 4 plans
Essential: $19/month

with features including 1 chatbot creation, 25 pages, 2000 messages/month 

Growth: $49/month

which includes 2 chatbot creation, 100 webpages, file uploading and upto 5000 messages/month

Pro: $99/month

5 chatbot creation, 500 webpages and upto 10000 messages/month

Elite:

at a staggering

$999/month, this plan allows the user to create unlimited chatbot, 10000 webpages and access to GPT 4

But one thing that has to be kept in mind is these prices are exclusive of taxes and additional local tax. 
There are a variety of reason as to why you should explore SiteGPT alternatives
Extremely small team:

SiteGPT has an extremely small team and so they are not able to roll-out peripheral features quickly. Further support is limited due to a small team-size. On a larger time-frame, having a small team will be a disadvantage due to the founder's fatigue and energy constraints. 

No multi-channel integration:

SiteGPT does not have multi channel integration. This feature can help your customers to connect with your business through different channels of communication. 

Pricing:

The pricing can go a bit on the higher side when compared to the features provided at that price range. 

Lack of enhanced customization options: While SiteGPT provides basic customization features, a lot of chatbots  in the market provide the option to customize chatbot according to their brand needs.

5 Best SiteGPT Alternatives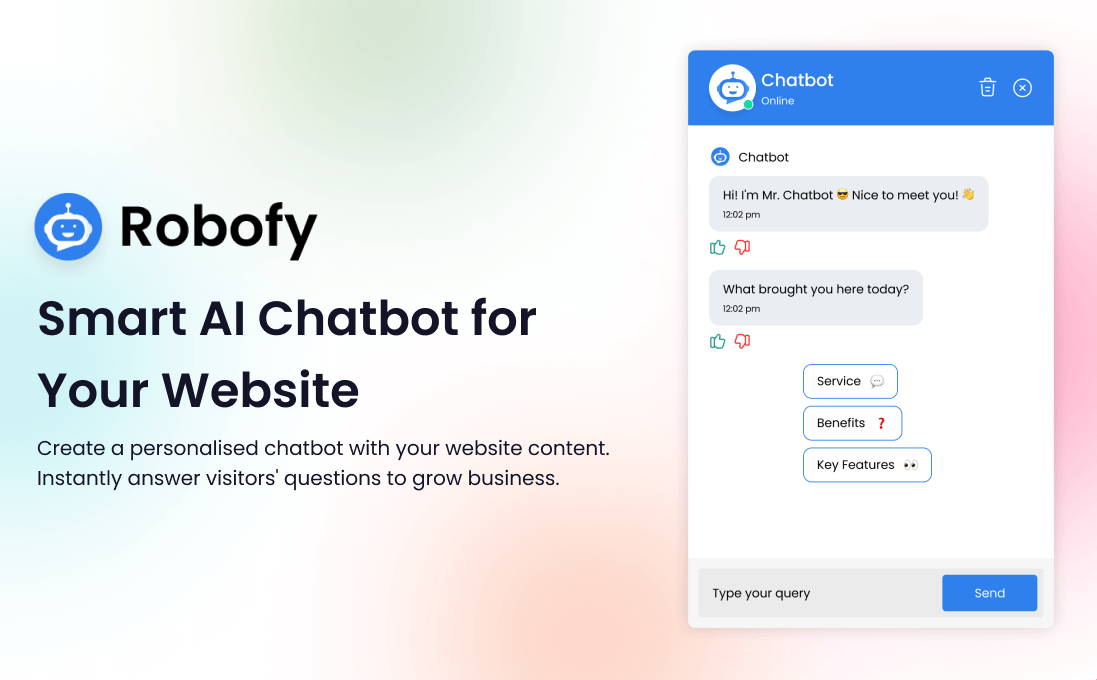 Robofy AI Chatbot is one of the best SiteGPT alternatives. We aren't just saying it. We have the evidence to back this claim up. Robofy AI Chatbot is packed with advanced features and functionalities that make it an outstanding choice for both individual users and businesses.
Features of Robofy
AI Algorithm:

Firstly, it's built on an AI algorithm, much like SiteGPT, but it goes a step further. Its natural language processing capabilities allows Robofy to have human-like conversations with users.

Advanced Customization:

Unlike SiteGPT, Robofy offers advanced customization options. You can tailor the chatbot according to your business needs. Robofy makes it simple to create a chatbot that truly embodies your brand.

Multi-Channel integration:

Robofy offers integrations with multiple channels like WhatsApp, Google Meet, Zoom, Calendly, FB Messenger,  Gmail and much more.



24×7 Multi lingual support:

Robofy's Chatbot can easily give responses in multiple languages. This allows users from different parts of the world to easily interact with your business.



Inbox:

You can check the conversations robofy's chatbot is having with your customers. The option to edit those answers is also available. This enables you to enhance the chatbot's response easily.

WordPress Plugin: For all the websites created in WordPress, Robofy has a powerful plugin for it too. The AI Chatbot plugin for WordPress has an easy plug and play setup. Thus helping it integrate with your website within minutes.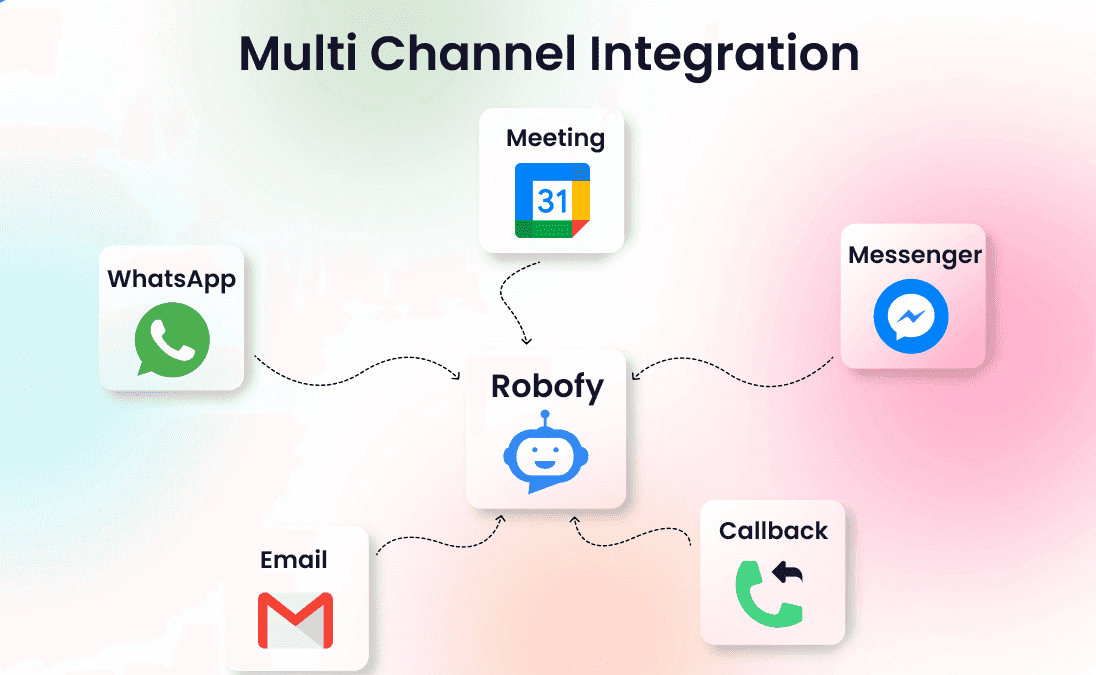 These features are just the tip of the iceberg. With many more features like quick question, Answer review button and much more, it makes Robofy a very powerful, smart and userfriendly chatbot. 
With these plethora of features, the cost of Robofy is surely going to be high. Right?
That's the interesting part, keeping in mind the growth of small and medium sized businesses, the pricing plans are economic and affordable. 
Robofy Pricing Plans
Forever free version:

Not many chatbots have this, but robofy decided that their product must be tried by the users free of cost. This will help you get a glimpse of what robofy can do for your business. 

Basic:

starting at

$9/month

you get to crawl 20 pages for 1 website along with unlimited Chat replies and much more.

Standard:

this plan starts at

$19/month

. Crawl 100 pages, unlimited chat replies. You can also remove the "powered by Robofy" branding. 

Professional:

Starting at

$29/month

, this plan allows you to crawl upto 1000 pages. Use 5 different websites, remove the robofy branding and much more.

Enterprise:

Starting at

$79/month

, the plan allows the user to crawl upto 10000 pages and use 10 different websites. With unlimited chats, remove robofy branding and much more, this plan has no downside to it. 
In conclusion, when you choose Robofy, you aren't just opting for SiteGPT alternatives. You're choosing an AI chatbot that's leading the way in technology, customization, scalability, and user satisfaction.
WonderChat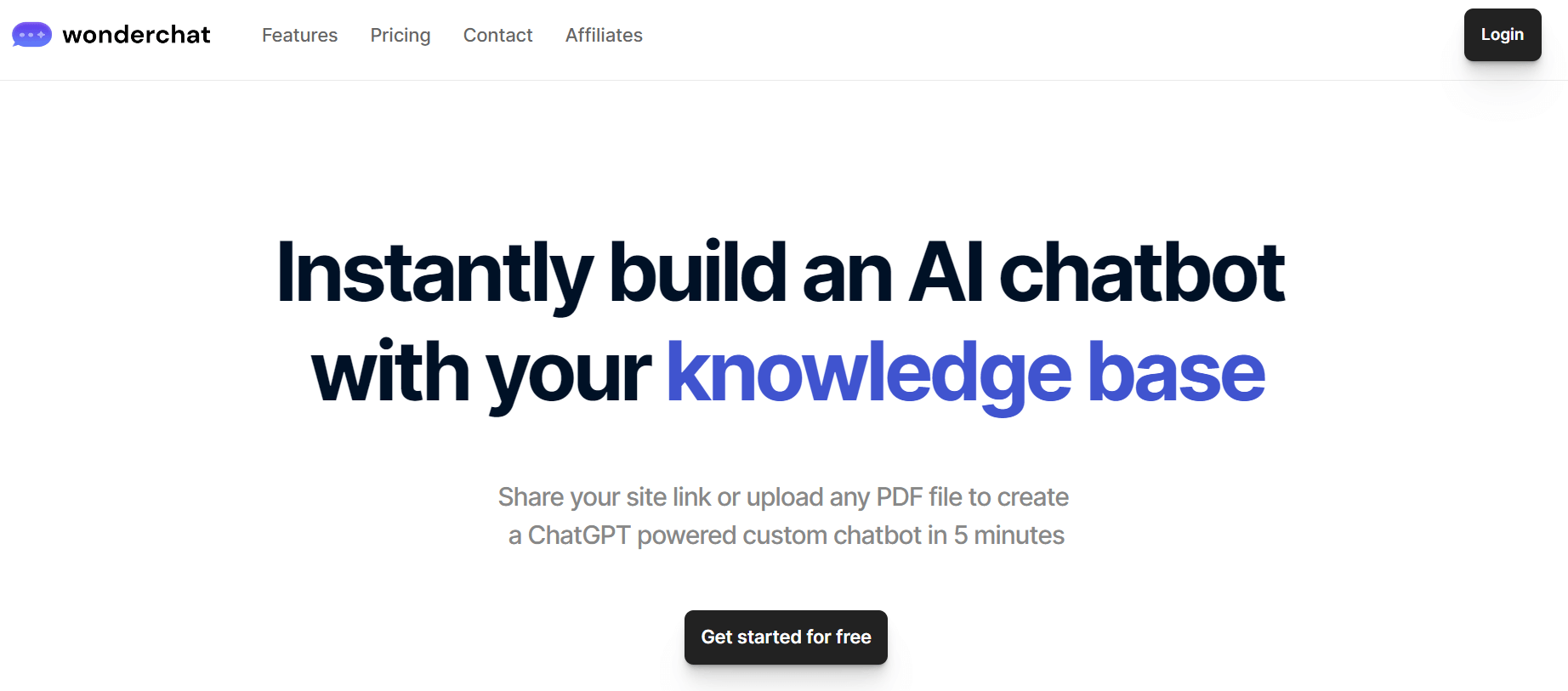 WonderChat is an AI Chatbot tool which can create a no-code chatbot for your website within minutes. The chatbot can answer visitor queries based on the content provided to it via website link or documents.
Features of WonderChat
Wonderchat has the following features:
Receive User Reviews:

Enhance your services with direct feedback, as WonderChat enables users to effortlessly leave their reviews.

Embeddable Chat Widget:

Seamlessly integrate communication with WonderChat's widget, effortlessly embeddable into any web platform.

API Access:

Unlock limitless possibilities with API access, allowing for further customizations and integrations with WonderChat.

Analytics for Chat Interactions:

Leverage data-driven insights to optimize user engagement with comprehensive analytics on chat widget interactions.
WonderChat Pricing Details
They have 4 plans for the AI chatbot:
Lite:

starts at

$49/month

with which you get 500 messages and 2 customisable chatbots.

Basic:

this plan starts at

$99/month

with 1000 messages and 3 customisable chatbots.

Turbo: $249/month

with all the features present in lite and basic versions.

Professional: $499/month

with all the features unlocked.
Fini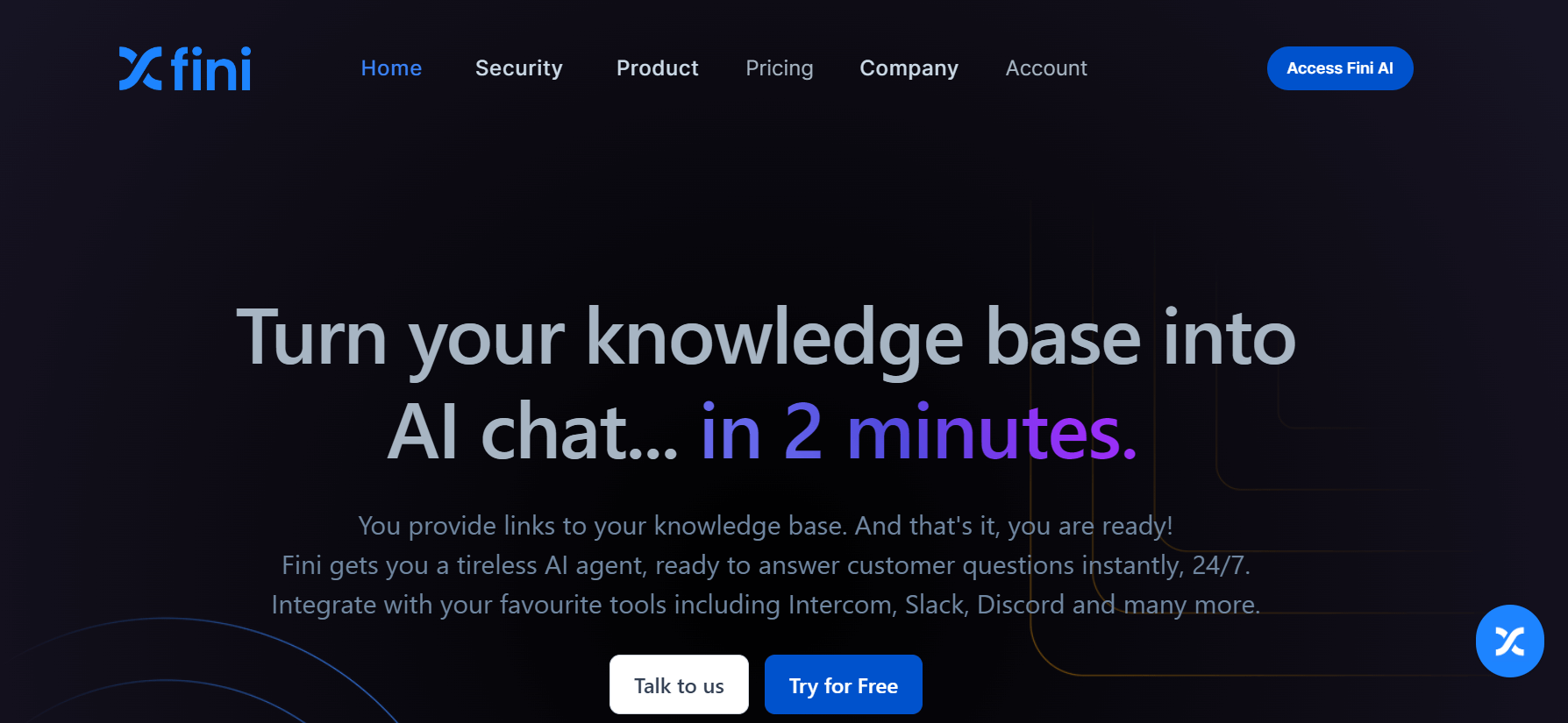 Fini provides a smooth conversion of your existing knowledge base into a AI chatbot. Additionally, Fini allows you to adjust its communication style in line with your business objectives.
Features of Fini
Configure Tone of Chatbot:

You can tailor your chatbot's communication style to align perfectly with your brand's voice and personality.



Seamless Human Routing:

Ensures a smooth transition from AI to human assistance when needed, providing an uninterrupted customer service experience.



Multi-channel Approach:

Reach your audience wherever they are, with a comprehensive multi-channel strategy that includes various digital platforms.
Fini Pricing Details
Free Plan:

Fini offers a free plan with only basic features, accommodating up to 25 questions at zero cost.

Customizable Paid Plans:

Tailored to unique business needs, Fini's paid plans start at just $0.096 per question, pricing flexible based on specific requirements.

GPT 3.5 and 4 Integration: Paid plans come with GPT 3.5 and 4 integration, offering businesses the chance to enhance chatbot performance with these advanced language models.

Landbot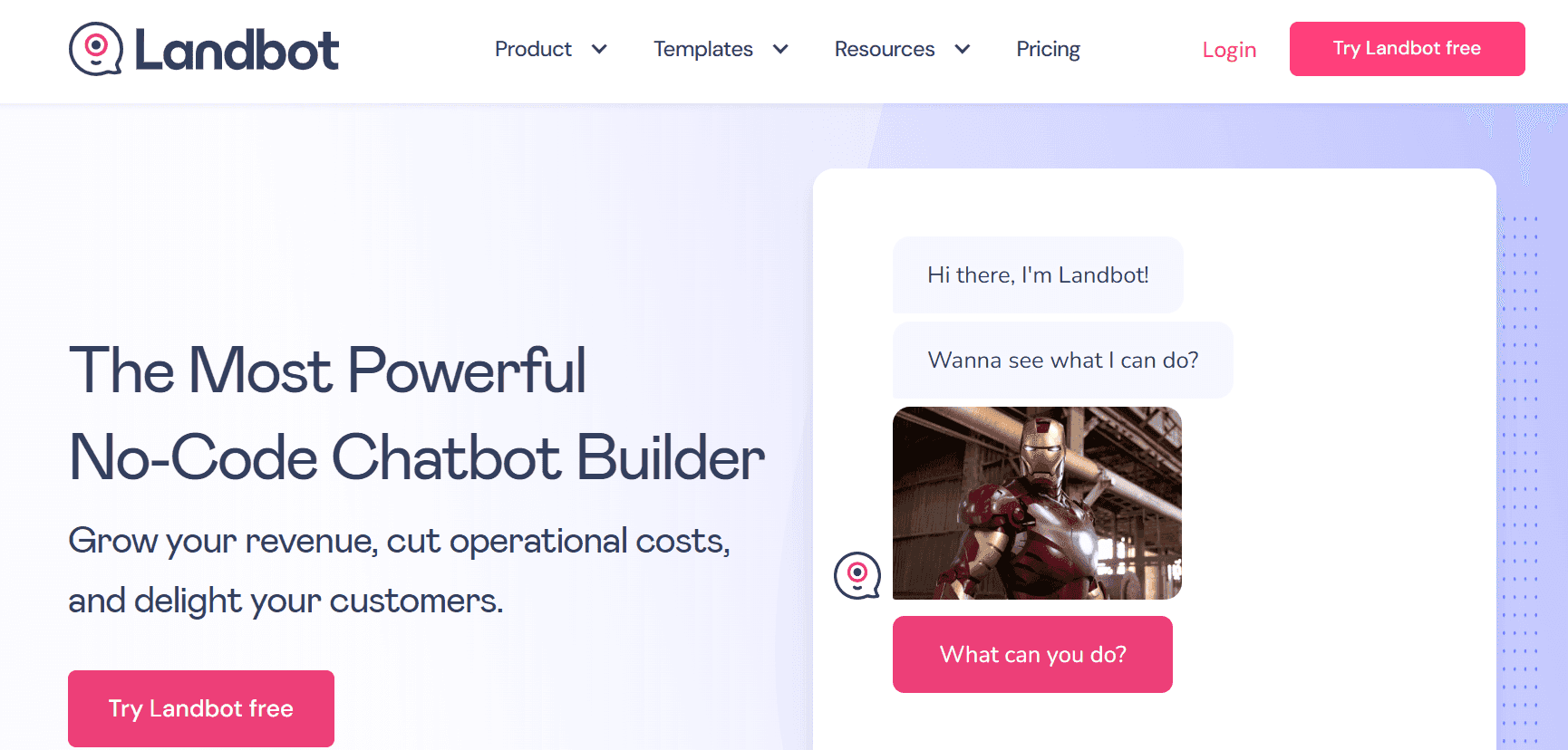 Landbot, a no-code chatbot builder helps to answer customer inquiries, it smoothly transitions the conversation to a human support representative for an effortless resolution.Landbot has a user-friendly interface, coupled with analytics. 
Features of LandBot
Drag and Drop Builder:

Create a custom chatbot effortlessly with Landbot's intuitive drag-and-drop builder.

Templates to Choose From:

Select from a variety of templates to get started quickly and efficiently.

In-Depth Analysis:

Leverage the analytics dashboard for detailed insights to optimize chatbot performance and user engagement.
LandBot Pricing Details
Free Forever Plan:

Enjoy up to 100 chats per month at no cost.

Paid Plans:

Get access to more advanced features with plans beginning at just

$38/month

.
Knowbo.AI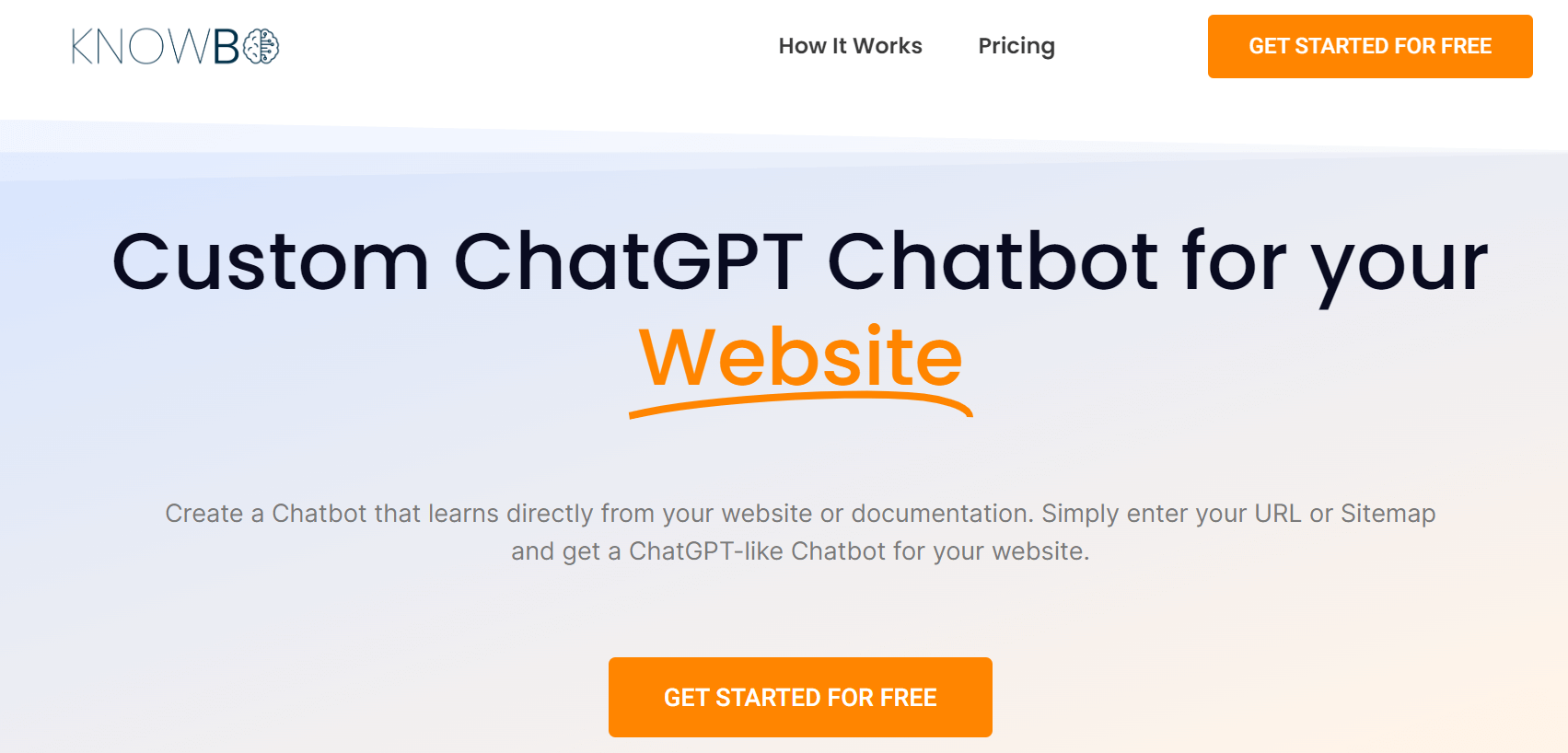 Knowbo.ai straightforward deployment function enables quick integration with your website, without the need for coding.
The chatbot's training is dependent on the content supplied to it. With sufficient content, Knowbo.ai can easily address queries. The chatbot requires no additional training, streamlining the setup process.
Features of Knowbo.AI
Chat History:

Keep track of interactions with a detailed log of previous chats.

No Additional Training:

Efficiently designed, Knowbo.ai requires no extra training, ready to engage right out of the box.

Easy Deployment:

Enjoy quick and hassle-free integration with your website thanks to Knowbo.ai's straightforward deployment.
Knowbo.AI Pricing Details

Knowbo.AI Pricing:

Start exploring advanced features with paid plans beginning at just

$19

.

Ultimate Plan:

For

$79

, gain access to all advanced functionalities with the comprehensive Ultimate plan.
Choosing the right chatbot for your business
Few points to keep in mind before choosing a chatbot for your business
Ease of integration:

The chatbot should integrate with your website seamlessly. 

Consistency with your brand:

Chatbot should be able to customize to the extent that it easily connects with your brand's identity. 

Learning capabilities:

The chatbot should be able to learn from the content provided to it easily. This will help the chatbot to answer your visitor queries quickly. 

Pricing:

The chatbot should be budget friendly. The features provided in the price range should provide justice to it. 
In conclusion, selecting the right AI chatbot for your business isn't just about functionality; it's about finding a tool that fits seamlessly into your operations, understands your objectives, and enhances your customer's experience.

Having compared all the chatbot applications, our final verdict is that Robofy has its unique strengths that could be the ideal solution for your specific needs which makes it one of the best SiteGPT alternatives. While the decision ultimately lies with you, remember that the goal is to leverage technology not just to drive conversations, but to foster relationships, inspire engagement, and drive growth & Robofy AI chatbot can help you achieve just that.
If you liked this, you can also learn how Robofy is a better alternative to chatbase. Read how Robofy vs Chatbase pans out.