In this topic, we have covered how to download the  AI Chatbot plugin from the official website, install this plugin to your WordPress website, and hit the activate button.
Let's begin
To install the  AI Chatbot plugin, ensure the following steps be taken care of carefully.
 Step 1:-
The first step is to visit the robofy.ai website.
 Step 2:-
Now, goto WordPress tab from the top menu. click the "100% free download" button on the page. The page will look like this.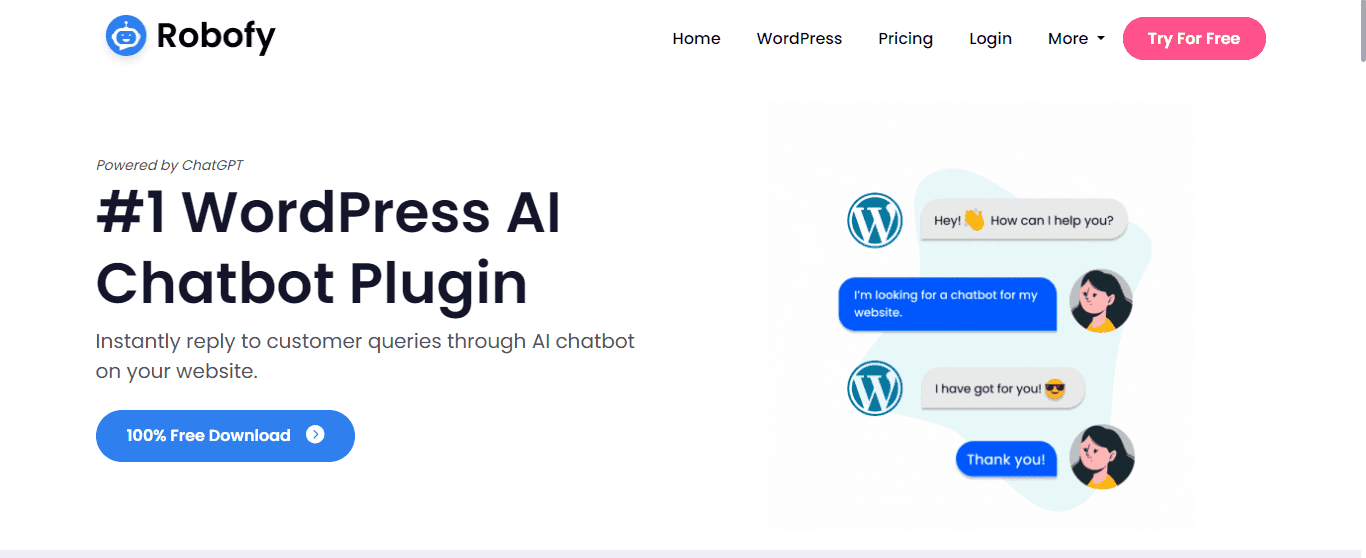 Step 3:-
After hitting the download button, the zip file will be downloaded to your computer. Once done with the download, you need to proceed with the installation.
 Step 4:-
Log in to the WordPress admin page of your website. You can do so by adding wp-admin in front of your URL address.
 Step 5:-
As you reach your WordPress dashboard, click on Plugins & click the Add New button. The page should look like this.

 Step 6:-
Once you click on that option, you will see the upload plugin button. The next step will be to click on "Choose File" The page will look like this.

 Step 7:-
Now, you will be redirected to your download location. Choose the zip file you downloaded from your file directory and click okay.
 Step 8:-
Once the upload is complete, you will see the "Activate Plugin' button. Click that button.

 Step 9:-
The plugin is successfully activated. Look for "AI Chatbot" in your dashboard.
Congrats! You successfully downloaded and installed your new plugin. So, what's next? Our plugin's entire purpose is to read your website content and create a conversational chatbot that can interact with your website visitors. The chatbot can automatically answer questions, provide support, and make recommendations based on your website content.
Find out: Steps to build ChatGPT based chatbot