Customer support is the backbone of every business. When a customer feels like their opinions, issues, and interests are valued, they feel good and important. This feeling is projected with the high brand quality and product in customers' minds. When such a connection is made, they are more likely to purchase the product or return for more services in the future.
With the ever-evolving AI technology, it's easier for businesses to find solutions to their problems. AI products are coming to the market with affordable solutions.
To enhance the customer support experience, AI Chatbots are gaining popularity among a variety of businesses. But amidst the various powerful options to choose from, one needs to know everything about these chatbots. To ease this cumbersome task, we have collated a list of the top 7 customer support AI chatbots.
But before we move forward, we need to be clear on the definition of AI chatbots and how they differ from rule-based chatbots.
What is an AI Chatbot? What is NLP?
AI chatbot is software that imitates human-like conversations using an advanced branch of AI technology known as NLP (Natural language processing) which gives computers the ability to understand text and speech the same way humans can.
To know more about Ai chatbots and everything associated with it, click here.
What is a Rule-Based Chatbot?
Rule-based chatbots are structured using a dialog tree that has specified keywords, responses, and prompts based on which the chatbots respond to the user queries once a specific condition like a keyword is triggered.
Now that the basics are out of the way, let's look at the best customer support AI chatbots.
Top 7 Customer Support AI Chatbot
| | | | |
| --- | --- | --- | --- |
| Name | Platform | Features | Price |
| Robofy | Web | 24×7 multilingual support, NLP ( Natural language processing), user-friendly interface | Free forever plan and paid plans starting from $9/month |
| Hubspot Chatbot | Web | Customizable chatbot builder, seamless integration | Paid plans start from $500/month |
| Zowie | Web | Automation, integration. Quick Replies | Connect with sales team for pricing |
| Zendesk AI | Web | 24×7 automated support, Seamless chat transfer to agent | Paid plans starts from $49/month |
| Giosg | Web | Advanced learning processing, instant responses | Connect with sales team for pricing |
| Ivy.AI | Web | Ivy Quantum, Quantum email, and sms feature | Connect with sales team for pricing communicate |
| Kommunicate.AI | Web, Mobile | Seamless integration, live chat widget | Paid plans start from $40/month |
Robofy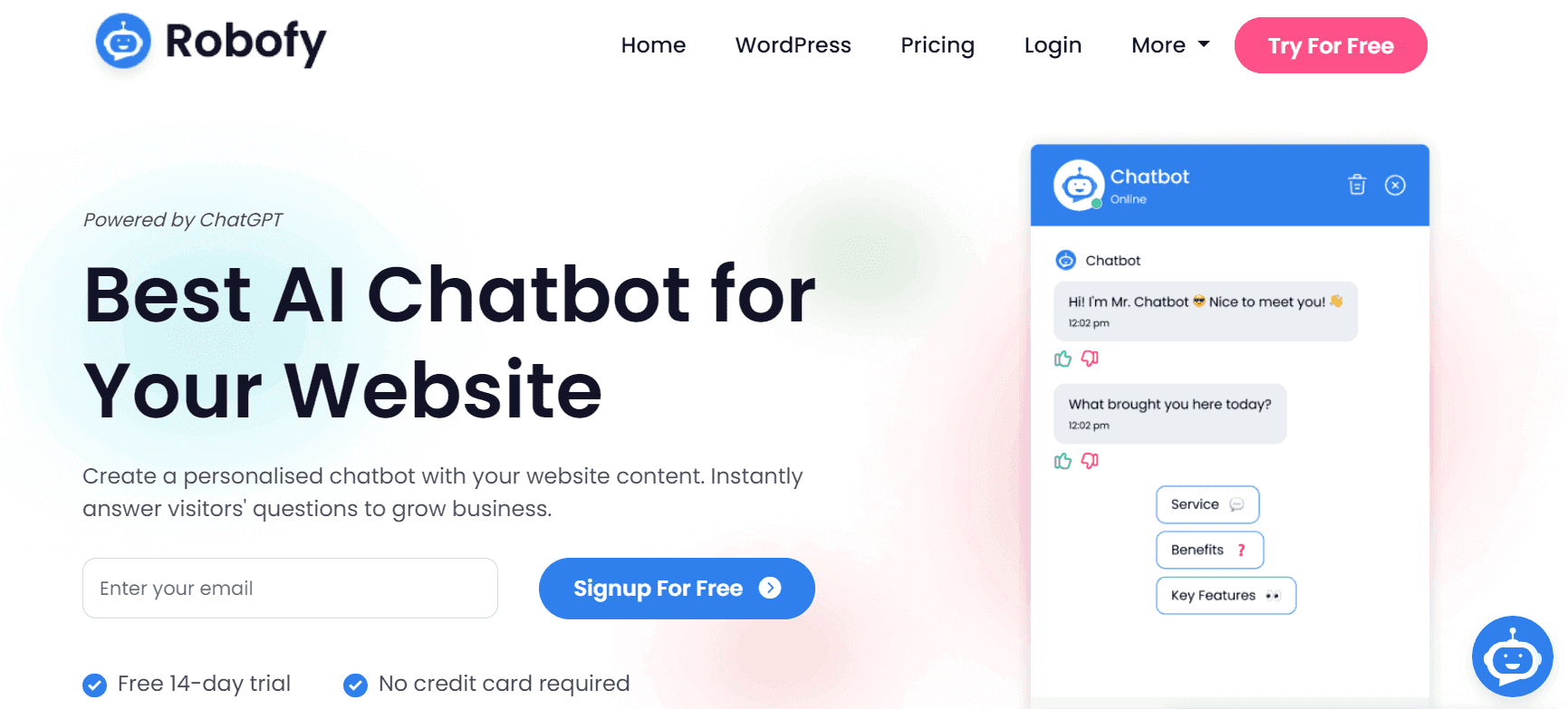 The Robofy has powerful features which make customer support experience easy, instant, and satisfactory. Solving customer's queries as soon as possible increases the brand value, trust, and return rate.
The chatbot will engage with customers in real-time and give them instant replies. The software is user-friendly and easy to set up. The chatbot offers a range of features that makes it stand out from other AI chatbots.
Features of Robofy AI Chatbot
24×7 Multilingual support
Chatbots that have multilingual features always have the edge. Business these days has customers from all over the globe. This feature helps the customers to interact with your business with ease. Their comfort and confidence to interact increase and hence helps your business to grow more without any hindrances.
Automatic learning
The chatbot converts your website's content into a knowledge base. This allows the chatbot to solve user queries instantly. As and when your website's content gets updated, the chatbot enhances the answers to maintain a smooth workflow.
Because of this, customers don't have to wait for long periods to get their queries solved.
Inbox
This feature saves all the chat history of the customer and the chatbot. You can analyze the answers and change or edit them to make the chatbot's responses more accurate if needed.
Ratings
The user has the option to rate the replies they receive from the chatbot. Replies which have down ratings can be analyzed in the chatbot's dashboard and improved accordingly.
Pricing details for Robofy
Robofy's AI Chatbot has a FOREVER FREE plan. This plan allows the user to
Crawl 5 webpages
Have unlimited chats
Chat analytics
Chat ratings
Paid Plans start from $9/month.
Here's a detailed guide on AI chatbot.
Hubspot Chatbot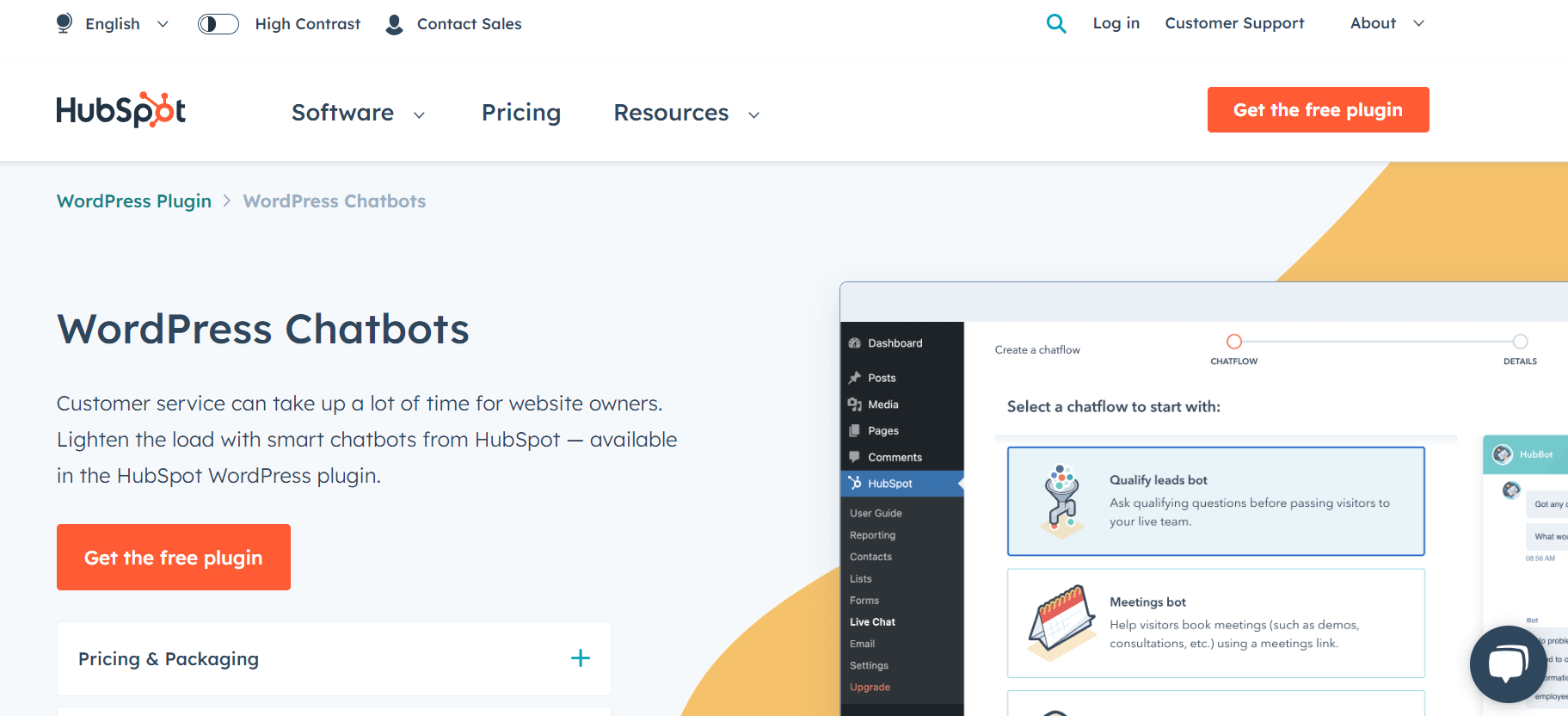 Using Hubspot's chatbot, you can easily generate messenger bots that provide assistance in lead qualification, scheduling meetings, answer frequently asked questions, and much more. This allows your team to allocate more time to engaging conversations that require more attention.
Creating Hubspot's templates is an easy task and does not require any coding. You can simply align the template with your business objective and tailor the conversation according to your brand.
Features of Hubspot Chatbot
Automation of small tasks so that the team can focus on more complicated tasks.
If the user query is too difficult to handle, the chatbot will redirect the chat to a human support team so that the customer does not have to wait for longer durations.
Pricing details for the Hubspot chatbot
Paid plans start from $450/month.
Several features in the paid plans are:
Upto 100 custom reports.
1000 conversations per month.
Knowledge base up to 2000 articles.
And much more.
Also, check out AI chatbots for WordPress
Zowie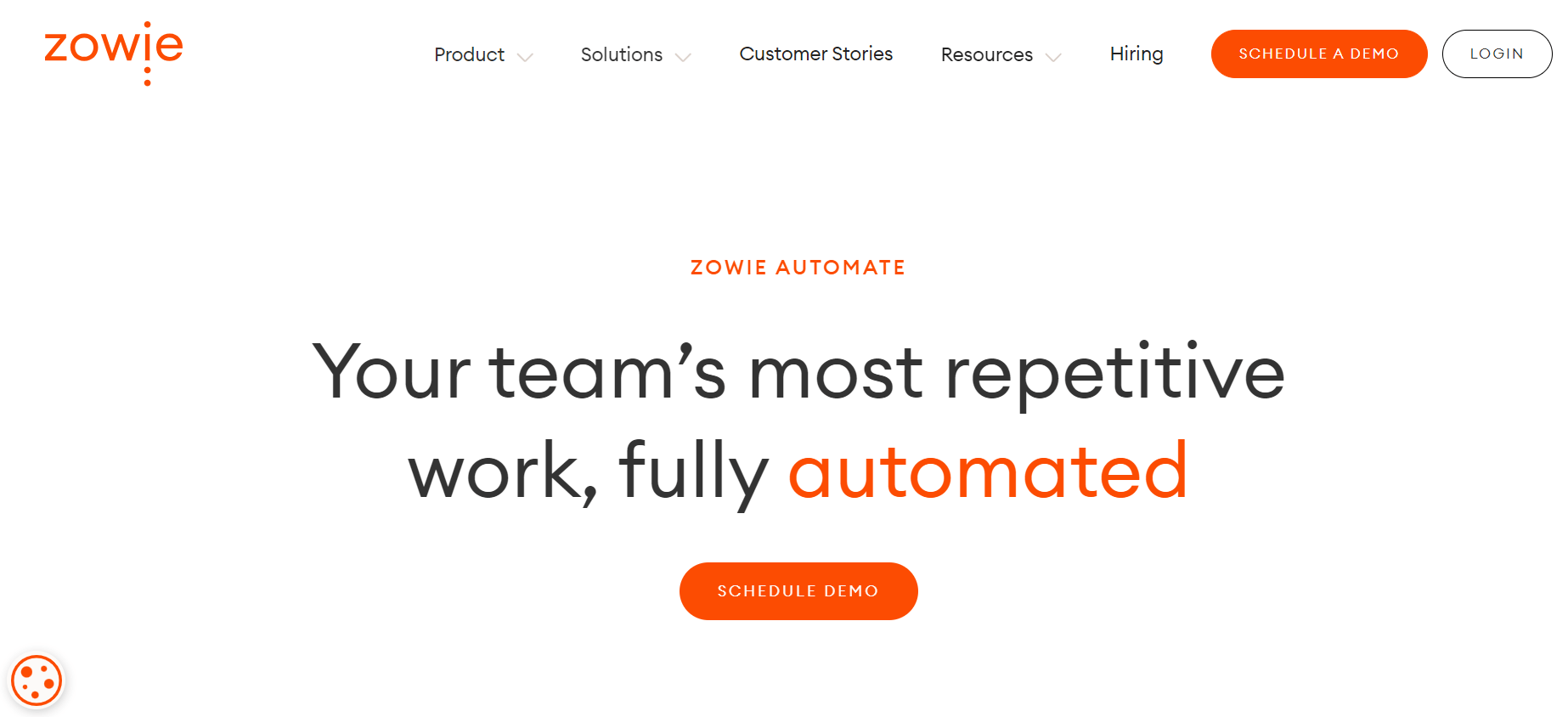 With Zowie, you can automate chats across all various channels within four weeks of implementation. Using Zowie you can reply to your customers instantly and be available 24×7. The multi-language feature by the zowie helps customers all around the world to connect you with your business.
The chatbot can seamlessly integrate with several applications so that users can shift from one app to another with ease.
Features of Zowie
Automate chats across multiple channels within four weeks of implementation, empowering efficient communication.
Instantly reply to customers and ensure 24/7 availability with the help of Zowie's prompt responses.
Benefit from Zowie's built-in e-commerce capabilities, specifically designed to meet the needs of online businesses.
Streamline email ticket management through Zowie's automation feature, saving time and effort.
Pricing details for Zowie
Users have to connect with Zowie to have a custom plan based on their business requirements.
Giosg AI Chatbot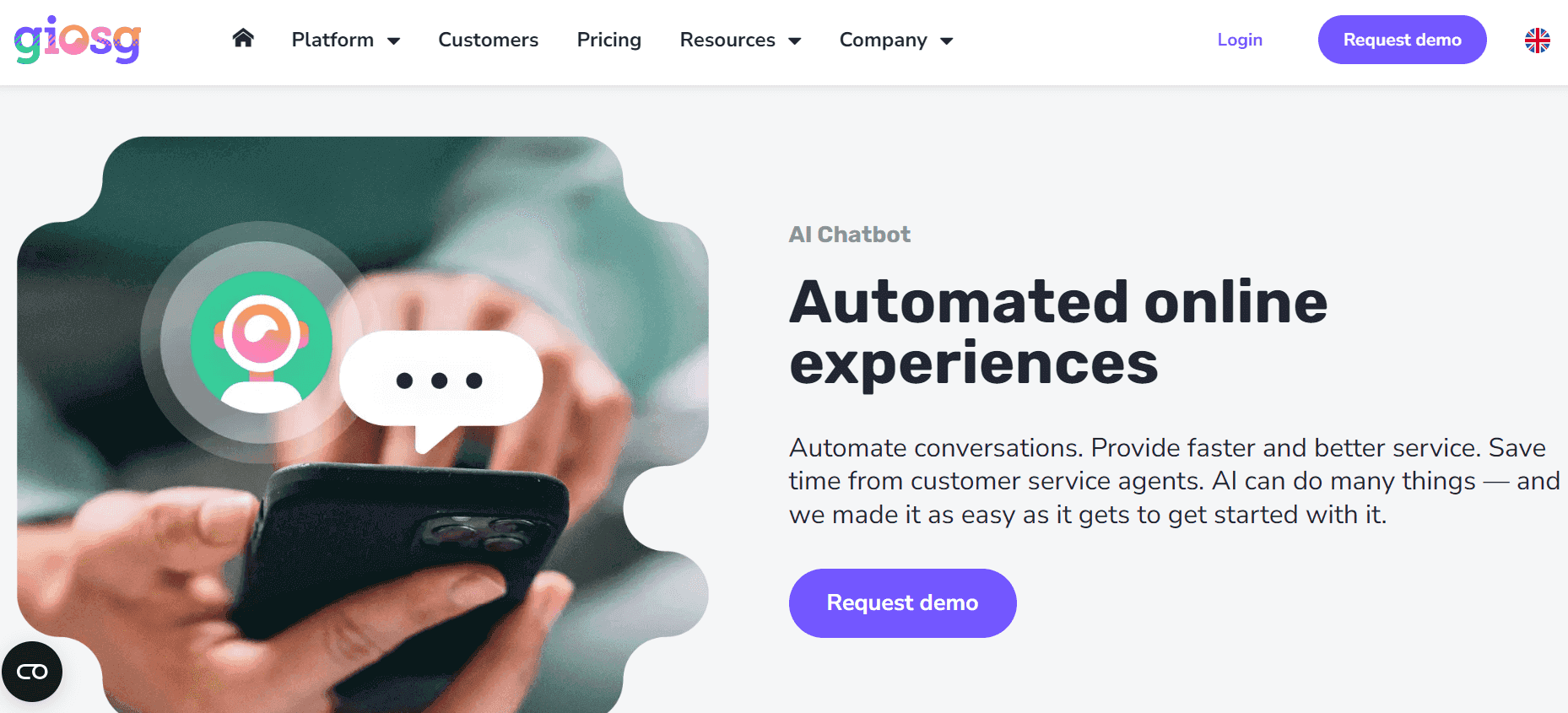 Giosg, the AI chatbot, functions as your reliable virtual assistant, ensuring that your customers receive accurate and appreciative responses. Using AI technology, you can easily create comprehensive bases by utilizing chat logs and live conversation histories. Additionally identifying relevant conversation topics becomes effortless with topic automation.
Features of Giosg
Fast implementation with easy AI training: Giosg ensures a rapid implementation process and provides straightforward AI training, allowing you to quickly deploy and optimize the chatbot according to your specific requirements.
Response from the knowledge with easy AI training: the chatbot ensures a rapid implementation process and provides straightforward AI training, allowing you to quickly deploy and optimize the chatbot.
Automatic transition to human chatbots: Giosg chatbot smartly identifies complex interactions and transfers the chat to a customer automatically. This makes sure that the user query is solved quickly.
Pricing details for Giosg
The Giosg sales team has to be contacted to know the pricing. According to your business needs, a custom plan is made.
Ivy.AI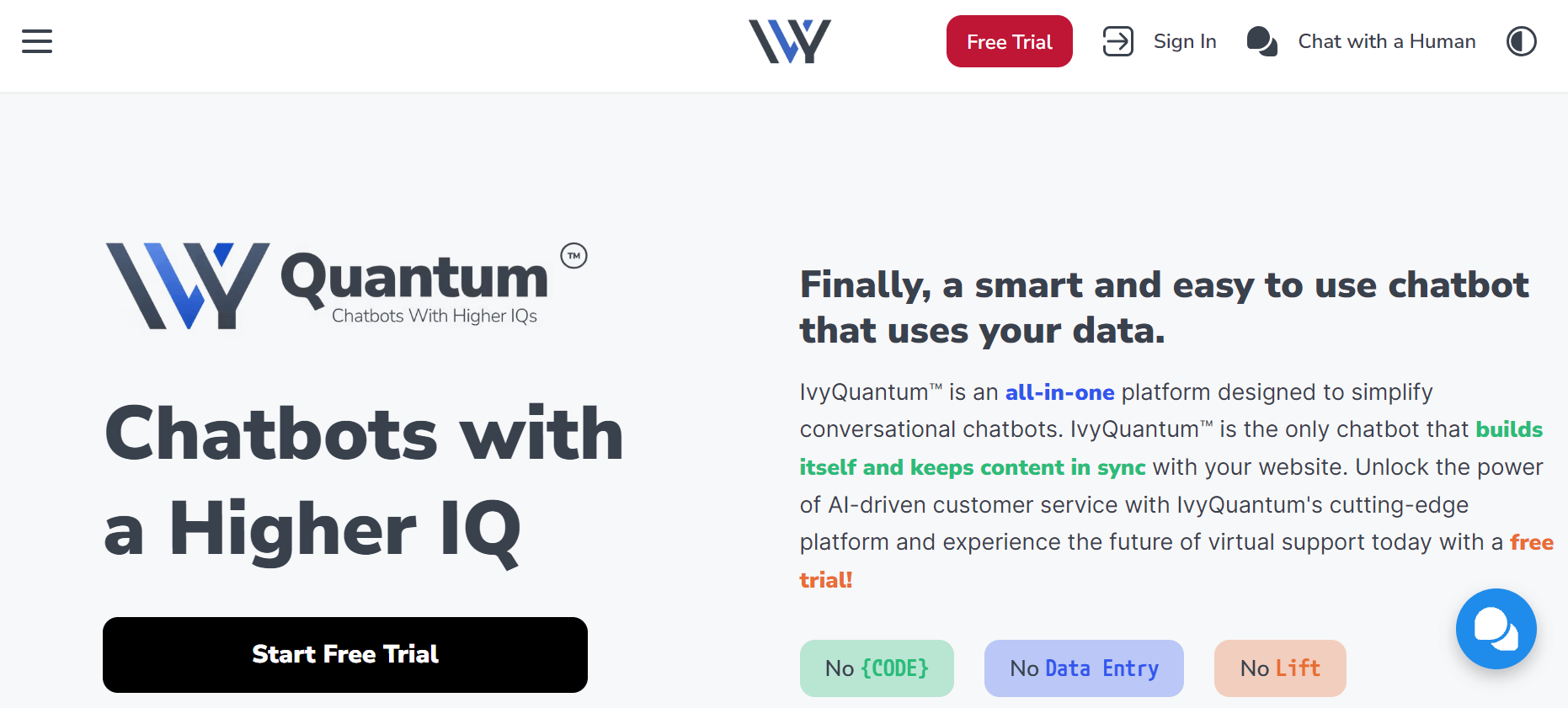 Ivy.AI has a platform named Ivy Quantum which is a comprehensive platform that streamlines the maintenance and creation of conversational chatbots. Using Ivy Quantum, your chatbot can build with the help of the content you provide. Moreover, the seamless integration with your website helps in deploying the chatbot quickly.
Features of Ivy.AI
The chatbot arrives pre trained with millions of questions asked by the users. This ensures a solid foundation, knowledge, and expertise.
Ivy chatbots depend on the information provided by the website. So the replies it gives are based on that content.
Ivy chatbot's advanced technology, your chatbot instantly comprehends questions and delivers precise answers, resulting in efficient and satisfying user experiences.
Pricing details of Ivy.AI
The users will have to contact the sales team to get a custom pricing plan based on their business needs.
Kommunicate.AI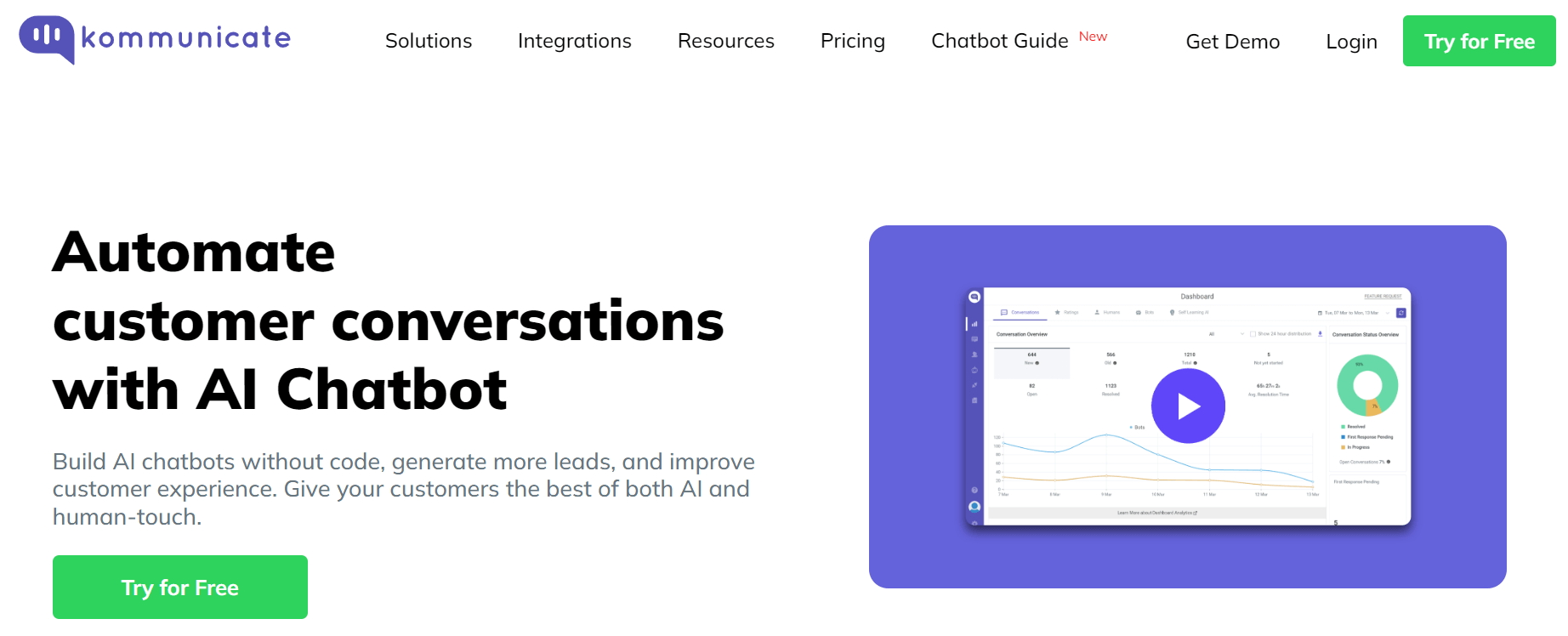 Kommunicate's AI chatbot is a codeless bot that helps to kickstart your customer automation. It allows seamless integration to the human support team when the query is too complex to understand. The NLP-powered chatbot supports customization based on your company's needs. This makes the chatbot blend in with your websites and ensures a smooth workflow.
Features of Kommunicate.AI
With its interactive dashboard, you can easily manage all customer conversations.
The dashboard is packed with powerful analytics to enhance both humans and bots.
Easily set up your knowledge and FAQs so that the customers can help themselves out.
The chatbot can easily fetch the answers from FAQs and answer the customers directly and instantly.
Pricing details of Kommunicate.AI
Basic paid plan with limited features is priced at $40/month
Premium plan with all the features unlocked is a custom-based plan. Based on the business requirements , the price will be set.
Zendesk.AI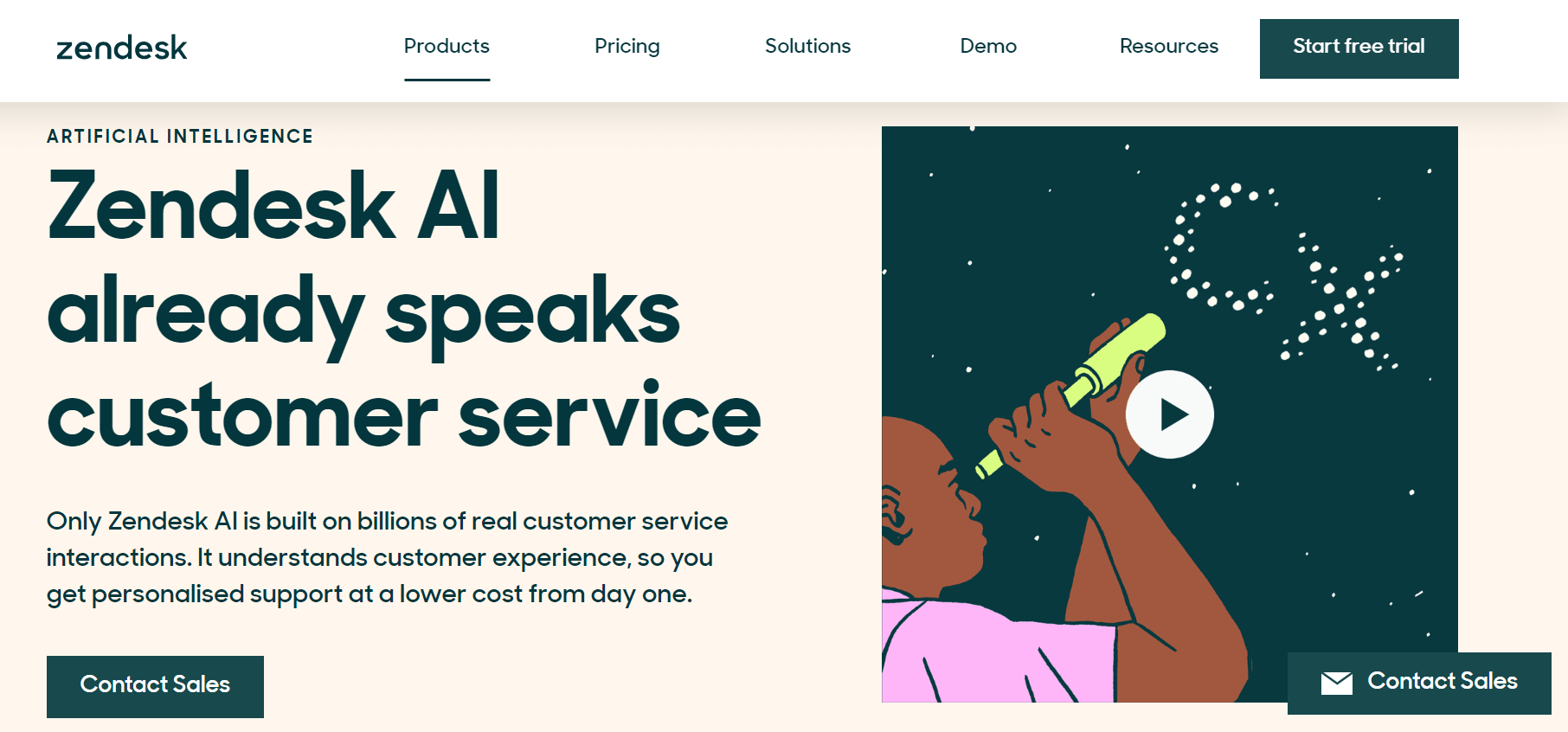 Zendesk AI leverages its foundation on extensive data derived from billions of real customer service interactions, facilitating a profound understanding of the customer experience. This exceptional comprehension enables the delivery of personalized support right from the outset, optimizing cost-effectiveness in customer service operations.
Features of Zendesk.AI
Full Context for Agents: The chatbot can equip agents with comprehensive context by utilizing advanced triage tools that minimize manual sorting and prioritization, allowing agents to understand customer needs and sentiments even before conversations begin.
Accelerated Issue Resolution: It boosts efficiency by integrating intelligence into the workspace, enabling AI-powered insights and suggestions for agents.
Personalized Article Recommendations: The AI chatbot can deliver timely and relevant information to agents through personalized article recommendations, ensuring they have the right resources at their fingertips to assist customers.
Streamlined Workflows and Automation: Leverage bots to collect customer information such as name, email, and issue type, enabling Zendesk AI to efficiently handle common requests, freeing up agents to focus on high-impact tasks.
Pricing of Zendesk.AI
The pricing for Zendesk.AI is divided into two parts.
General plan for everyone which starts from $49/agent/month
Enterprise plan starts from $150/agent/month
Also check out: Best AI chatbots comparison
What are the advantages of using AI chatbots for customer service?
Using AI chatbots for customer service offers several advantages that cater to the modern customer's needs and enhance business operations:
Instant and 24/7 Availability: AI chatbots provide immediate responses to customer inquiries, ensuring that customers don't have to wait for assistance. This availability eliminates any potential blockades and prevents customers from moving on to competitors.
Time and Cost Efficiency: By leveraging AI chatbots, businesses can save valuable time and resources. Human representatives can focus on complex problems and more specialized tasks, while chatbots efficiently handle basic queries and escalate issues when necessary. This streamlined approach optimizes productivity and reduces operational costs.
Lead Generation and Follow-up: AI chatbots serve as effective lead generation tools by collecting customer contact information in real time. Businesses can leverage this data for future marketing initiatives and personalized follow-ups, nurturing leads and driving conversions.
Continuous Learning and Improvement: The data collected by AI chatbots serve as valuable learning material for both the chatbot itself and the business. Analyzing customer interactions helps improve the chatbot's responses and performance over time.
Furthermore, businesses gain insights into customer preferences, pain points, and trends, enabling them to enhance their products, services, and overall customer experience.
Find out: How to create chatGPT based chatbot – here
What are the challenges to customer service?
There may be various challenges faced by customer service. The challenges may differ from one business to another. But the commons one which all businesses face alike are listed below:
Juggling high customer volumes: Managing a large influx of customer inquiries simultaneously can strain resources and test the team's ability to provide prompt and personalized assistance to each individual
Balancing response time: Striving for low response times while ensuring thorough issue resolution can be challenging, especially when certain cases take more time and attention.
Flexibility in team scaling: Adapting the team's size to unforeseen situations, like a sudden increase in customer inquiries, product issues, etc demands high flexibility by the customer service team to tackle them as quickly as possible.
These challenges faced by the team can be easily resolved by using an AI chatbot. The scale at which the chatbots help to minimize the loss that comes along with such challenges is astronomical. That's why, with the rise in AI technology, businesses are implementing powerful AI chatbots to ensure a smooth functioning system.
FAQs
What are the top 3 AI chatbots for customer support?
The best AI chatbots for customer support are:
Robofy
Hubspot Chatbot
Zowie
How to choose the best chatbot for customer support?
There are various factors on which choosing a chatbot for your business depends. But some of the most important factors are:
Natural Language Processing (NLP) Capabilities: Ensure the chatbot has robust NLP capabilities to understand and respond accurately to customer queries.
Integration with Existing Systems: Look for a chatbot that seamlessly integrates with your existing customer support systems, such as CRM to streamline workflows.
Customization and Personalization: Choose a chatbot platform that offers flexibility for customization, allowing you to tailor the chatbot's responses, branding, and user interface to align with your brand.
Analytics and Insights: Opt for a chatbot solution that provides robust analytics and reporting features, enabling you to gain valuable insights into customer interactions, user behavior, and performance metrics.
What is the cost of an AI chatbot for customer support?
Each chatbot has a variety of features, so the cost may vary for each of them. But some chatbots like the Robofy have paid plans starting from $9/month