AI chatbot is revolutionizing the way work is done. With the ever increasing popularity of AI technology , it is becoming more affordable. Businesses of all types are embracing AI technology.
AI chatbot is one such software which has gained popularity ever since ChatGPT was launched. But since then, ChatGPT is only the tip of the iceberg. As the demand of chatbot is increasing now more than ever before, there are a variety of AI chatbots which work on the ChatGPT technology and provide the best and powerful support it can deliver.
Here we have fully reviewed the Best AI chatbots. This will give the full insight about the top chatbots you can consider for your business.
But before we move forward with this, one should know what an AI chatbot is? And how is it different from rule-based or traditional chatbots.
What is an AI Chatbot?
AI chatbot is a software which uses NLP (Natural language processes) to imitate human-like conversations with the user. It has the ability to train automatically and improve the response it gives overtime.
Whereas a traditional rule based chatbot is trained on the content it is given. The keywords and its specific trigger points help the chatbot to give responses to the user's query. But this method takes lots of time and money to train the chatbot with many questions,keywords and its correct responses.
Now that's out of the question, let's focus on the best 11 AI chatbots that can help your business in more than one way.
Best AI chatbots in 2023
Here's a detailed comparison of the top 11 AI chatbots:
| | | | |
| --- | --- | --- | --- |
| Chatbot Name | Platform | Features | Price |
| Robofy | Web | Natural Language processing, Machine Learning, GPT-3 | Free forever plan Paid plans – Starts from $9/month |
| Chatsonic | Web | Digital artwork, Content Suggestions | Free, Paid plan starting from $13 |
| Landbot | Web | Operational Feature, Easy integration | Free, $38 |
| Tidio | Web, Messenger | Easy user segmentation, automate answers | Paid plan – Starts from $19/month |
| Jasper AI | Web and Mobile | Customization of tone and style, Ability to integrate | Paid – Starting from $29/month |
| Knowbo.ai | Web | Easy deployment, Chat history | Paid plan – Starts from 19$/month |
| Drift | Web | Natural language processing, Easy integration | Custom plans |
| Copilot | Web and mobile | Generating and completing of code | Paid – Starts from $10/month |
| Ibenta | Web, App | Natural language processing, Understands user intent | Custom plans |
| Ada | Web, messenger, Instagram | Easy integration, Omnichannel | Custom plans |
| Fini | Web | Configure Tone, Seamless human routing | Free plan, paid plan starting from $0.096/question |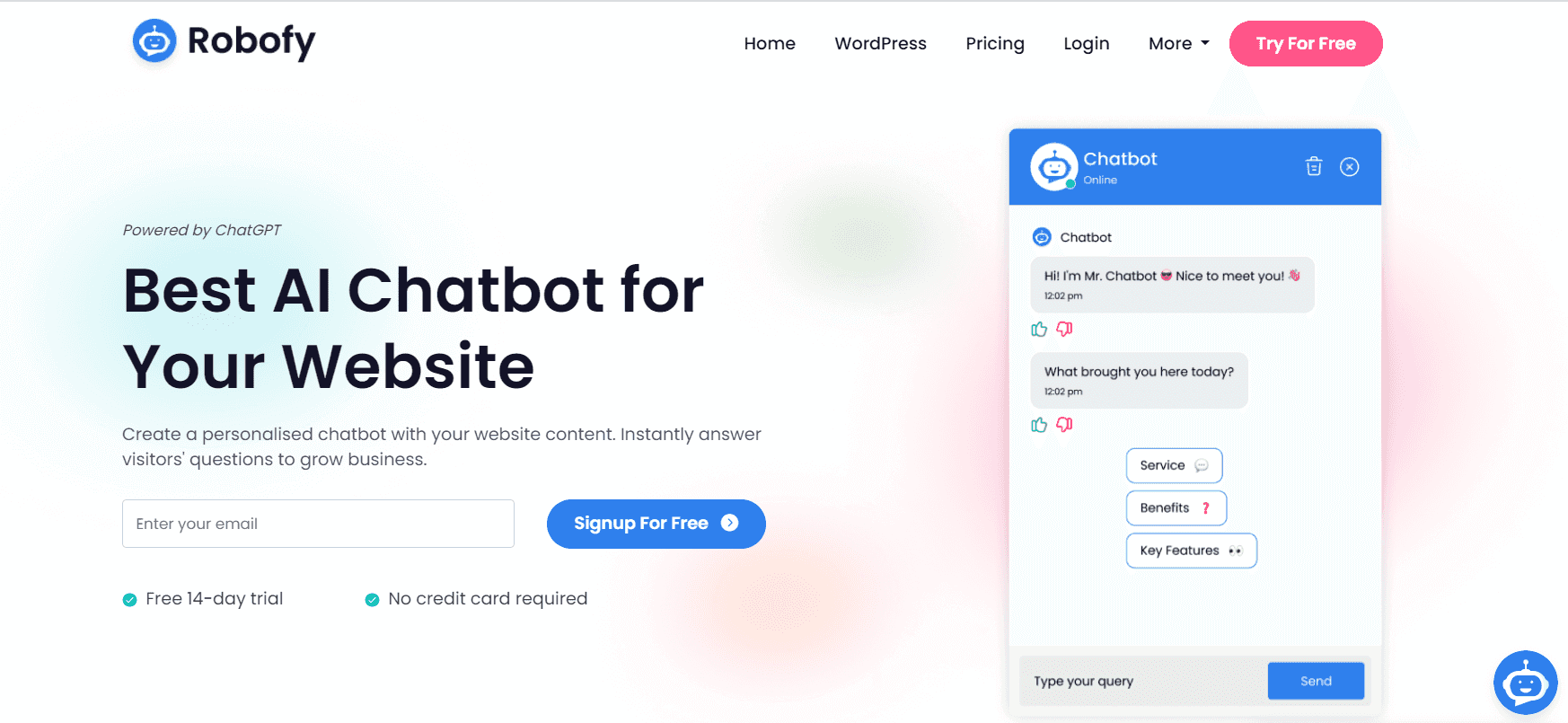 Robofy is a GPT powered chatbot for your website. With its automatic training, it can answer any queries the customer might have, just by crawling the content of our website. Moreover you can also add more content by providing documents, pdf etc.
Using the advanced customization feature, you can personalized the chatbot according to your business needs. The Chatbot's multilingual support allows the customers to engage with the business using any language.
Pros
Automated training
Ratings based performance enhancement
Check Chat history from inbox
24×7 multilingual support
WordPress integration
Unlimited chats
Cons
Live chat still under development
Pricing Plans
Free forever plan
5 web pages allowed to crawl
Chat analytics
Chat ratings
1 Websites
Chat inbox
Paid plan starting from – $9/month
Chatsonic
Chatsonic is an AI chatbot that helps you create engaging and informative chat conversations. It uses artificial intelligence to generate text that is tailored to your specific needs. You can use it to create chat conversations for a variety of purposes, including customer service, marketing, and sales.
The chatbot is easy to use. You can edit the conversations that fit according to your business needs.
Pros
It can easily engage with customers and provide instant replies to their queries.
It can automate chats, which saves time and money for business.
It can be scaled to meet the business requirements easily.
Cons
It requires some amount of training to perform optimally.
It can get expensive for businesses with limited budgets.
Chatsonic Pricing
Free trial available with limited features
Paid plans start form $13/month
Landbot
Landbot is a no-code chatbot builder which helps you grow revenue, cut operational cost and make the customer's experience delightfull. During complex customer queries, this bot can seamlessly shift the conversation to a human and let them take over and solve the issue easily.
With seamless integration and analytics, Landbot has a user-friendly interface. Using the analytics feature, analysis of the drop-offs, reports and goals completion can be done easily.
Pros
Integrate your data with other software platforms easily
Drag and drop builder
Templates to choose from
In-depth analysis using the analytics dashboard
Cons
Cannot answer all the queries, will revert the user to a human customer support
Uses conditional logic
Landbot Pricing
Free forever plan – Chats included 100/month
Paid plans starting from – $38/month and upwards.
Tidio
Tidio is an AI chatbot that can help businesses improve their customer service and sales. It is easy to use and can be integrated with major website platforms, including WordPress. Tidio can also be used on several popular messaging channels, so you can deploy high-level chat solutions wherever your customers are. Tidio is a great option for businesses of all sizes that want to improve their customer service and sales. It is easy to use, affordable, and has a wide range of features.
Tidio AI chatbots are powered by machine learning, which allows them to learn and improve over time. This means that the more conversations they have, the better they will become at understanding and responding to customer queries.
Pros
It allows the team to track interaction history.
Easily automate the FAQ's for quick responses.
Seamless integration with other platforms.
Cons
Doesn't have multilingual support.
Drag and drop features can sometimes get a bit messy.
Confusing pricing structure.
Tidio pricing plan
Free plan – The free plan has 100 chatbot triggers
Paid plan –  starting from $19/month
Jasper AI
Jasper Chat is an AI chat platform that is built into the Jasper AI writing software tool. It is a prompt-based AI chat tool, meaning that you can simply put in a query or prompt and Jasper will get to work. It also includes a refining experience where you can slightly modify your prompt to optimize for a preferable generated output. Jasper Chat is an ideal AI assistant with an easy-to-use chat interface.
Jasper Chat can be used to generate content, such as blog posts, articles, and social media posts.This means that Jasper Chat is able to generate high-quality content that is both informative and engaging.
Pros
It has a variety of writing templates to choose from.
Copyediting features
Plagiarism checker
Cons
Focuses on written text, hence making it more complex to respond to users instantly.
Cost is steep.
Difficult to control the tone and style of the content created.
Jasper Pricing
Free plan with limitations.
Paid plans start from $49/month along with a custom plan available for large businesses.
Knowbo.AI
The Knowbo chatbot speciality is that it automatically updates itself if there are any changes in the website's knowledge base. The easy deployment functions helps in quickly integrating the chatbot with the website without the need to do and complex coding.
The training of the chatbot may depend on the content provided to the chatbot. If the content is enough, it will be able to answer queries without any hindrance. No additional training is required for the chatbot.
Pros
Keeps itself up-to-date.
Can easily integrate with the website within minutes.
Chat history available to monitor the conversations between users and chatbots.
Con
Paid plans have limitations of 100 customer messages.
Advanced customization options only available in expert and ultimate plans.
Knowbo.AI Pricing
The paid plans start from $19.
The ultimate plan is $79 and has all the advanced features unlocked in it.
Drift
Drift is a conversational AI platform that helps businesses manage and create AI chatbots. The chatbot helps to engage with the customers within seconds. You can share relevant content with the customer, quickly qualify customer leads and even schedule meetings for your customers with the sales team.
Easily customize the messages, chatbot interface and more to suit your business needs.
Pros
Live chat features allow you to engage with customers instantly.
You can easily book meetings with  customer care.
Cons
Cannot answer all the queries everytime, will revert the user to a human customer support
Uses conditional logic when the query is simple, but may revert to human for complex queries.
Drift Pricing
Premium paid plans start from $2500/month.
Other plans are customizable, so the user has to connect with them.
Copilot
Copilot is a powerful chatbot which starts engaging conversations with customers based on specific trigger points. Based on the triggers, a response is activated and the customer query is solved instantly.
It can also give priority to sales and give scheduled follow ups based on the questions and the criteria set by you. It automatically saves the new leads into the CRM which is then reflected in the analytics.
Pros
Easy integration with CRM like salesforce, Hubspot and more.
Automatically responds to the repeated FAQs.
Automates admin tasks to ensure a smooth workflow.
Con
The bot only works on the content feeded into it.
It does not have the ability to learn and enhance the answers itself.
Pricing can be a bit high to begin with.
Copilot Pricing
Free plan is available
Paid plans starts from $29/month
Pro plans are custom made based on the business requirements
Ibenta
Ibenta is an easy to build AI chatbot which can be easily integrated in your website, app or connect to a variety of communication channels like WhatsApp, Slack etc. The seamless integration across various apps helps the user to have an engaging experience.
The chatbot can help to drive in more leads and boost sales. Ibenta's chatbots can provide automated support and help solve user queries as quickly as possible. The lead generation feature is followed by automated tasks like generating transactions and handling repetitive tasks.
Pros
The chatbot can engage with customers 24×7
Chatbot can have conversations in 35 languages
It automates transactions using webhooks and integrations.
Cons
Small amount of coding is required to integrate the chatbot with your website.
The chatbot may depend on human support to solve complex issues.
Ibenta Pricing
Free trial is available for only 14 days.
Paid plans are custom made and are only available upon contacting them.
ADA
Ada is an AI-powered customer service automation platform that helps businesses provide better customer service. It can automate repetitive tasks, such as answering FAQs and resolving issues, freeing up human agents to focus on more complex tasks.
The chatbot can also personalize customer experiences by using customer data to tailor conversations and recommendations. It is used by a wide range of businesses, including e-commerce, retail, media, fintech, gaming, and restaurants.
Pros
Ada can help businesses improve customer satisfaction by providing 24/7 support
It can help businesses reduce costs by automating repetitive tasks, such as answering FAQs and resolving issues.
Ada can help businesses increase employee productivity by freeing up human agents to focus on more complex tasks.
Cons
Ada may not be suitable for all businesses, especially those with very complex customer needs.
Ada may require some training for businesses to get the most out of it.
Ada may not be able to handle all customer inquiries, especially those that are complex.
ADA Pricing
Paid plans starts from $100/month and it goes upto $250/month
Supports up to 100 conversations per month to 500 conversations per month
Enterprise plans are custom made, and the user needs to contact them for more information.
Fini
Fini is a conversational AI platform that helps businesses create and manage AI chat bots. It offers a range of features, including:
Chatbot builder: This feature allows businesses to create AI chat bots without any coding experience.
Chat bot manager: This feature allows businesses to manage their AI chat bots, including adding new features, updating content, and monitoring performance.
Fini is a cloud-based platform, so businesses can access it from anywhere. It is compatible with a wide range of integrations, including CRM systems, marketing automation platforms, and e-commerce platforms.
Pros
Its user-friendly interface is easy to use even for those who have no technical knowledge.
Its powerful features like the chatbot builder, chatbot manager and in depth analytics helps to keep track of the chatbot's performance.
Cons
It may not be able to handle complex customer queries and may sometimes need human assistance.
May not be suitable for businesses which have complex needs.
Fini Pricing
Free plan available: only allows upto 25 questions per month
Paid plans are based on per questions charges and it begins from $0.096/ question
How to choose the best chatbot for your organization?
There can be a variety of factors on which choosing a chatbot for your organization depends on. We have listed some of the most important reasons which should be considered irrespective of the other factors.
Clearly define the objectives
The business should clearly define the objective for which the chatbot is going to be used. This should be considered because choosing the right functionality of the chatbot depends on this.
Know your target audience/customers
The business should know their customers well, the type of queries they frequently have, the type of services they search for. Based on this, it will be easy to choose the features which will allow chatbot function smoothly
Multiple task feature
The chatbot should be able to perform multiple tasks at once. It ensures a smooth and quick workflow.
AI chatbot pricing
Some AI chatbots may have a high price, but the features may or may not suit your business needs. Along with the features a chatbot offers, you analyze the ai chatbot pricing too.
With the rise in AI technology, there will be a lot of chatbots in the market. Choosing one of them may become a tough choice. Factor in all the features, needs of your organization before you choose a chatbot. The in depth analysis of top 11 chatbots can help you with this decision.
If you are interested to know about the best Chatbase alternatives, click here.
FAQs
What are the top 3 AI chatbots?
The top 3 Ai chatbots are:
What is the cost of chatbots?
The cost of chatbots can depend on lots of factors. Companies like Robofy provide chatbot starting from $9/month
How to choose the best chatbot?
The factors to choose the best chatbot are:
Define the objectives of your business
Know your target audience
Should handle multiple tasks easily